Top 5 Chinese-made motorcycles that you won't regret buying.
Chinese-made motorcycles have steadily ascended in quality and innovation, showcasing impressive strides in recent years. Manufacturers like CFMOTO and Benelli are refining their engineering prowess, with a clear focus on enhancing performance, reliability, and technology integration. Through strategic collaborations with big names in the industry, and relentless R&D efforts, Chinese motorcycle brands are leveraging cutting-edge advancements in performance and tech.
In line with this, multiple Chinese motorcycle manufacturers have showcased what they have to offer for the 2024 model year. Now more than ever, it seems that Chinese brands are leveling up their game, looking to bring similar, if not better, features than those of their European and Japanese counterparts. That said, EICMA 2023 was a solid launchpad for a lot of these bikes. With that being said, let's take a look at our top five picks when it comes to big bikes that are made in China. 
Benelli TRK 502
The TRK 502 emerges as a robust choice in the expanding middleweight adventure bike arena. It's primed for journeys, whether short commutes or extensive travels, offering rider-friendly features like comfortable ergonomics, weather protection, solid suspension with 50mm inverted front forks, and a versatile twin-cylinder engine that adds an adventurous flair even to daily rides. Notably, its braking capability shines with a dual front setup employing 320mm rotors and ABS, complemented by a 260mm rear disc also equipped with ABS, ensuring impressive stopping power.
Underneath its traditional Benelli steel trellis frame lies a 500cc parallel twin engine with dual overhead cams, four valves per cylinder, generating a commendable 46hp at 8500 rpm and 45 Nm at 4500 rpm. This powerplant, mated to a 6-speed manual transmission, delivers responsive performance throughout the rev range, augmenting the bike's overall appeal for riders seeking a blend of power, agility, and reliability across diverse terrains.
Voge 900 DS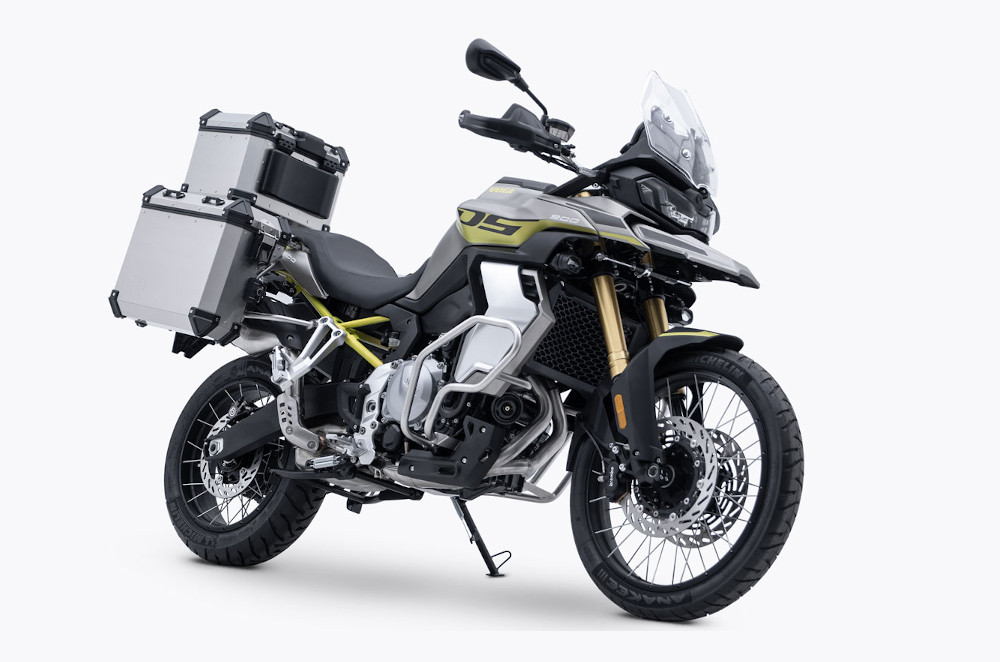 In case you weren't familiar with the Chinese brand Voge, it's a premium subsidiary of yet another motorcycle manufacturer from China, Loncin. Now, Loncin has been in the two-wheeler game for quite a long time now, and is considered by some as one of the pioneers of the Chinese motorcycle industry. In recent years, the company has teamed up with German manufacturer BMW for its F 850 and F 900 models. Unsurprisingly, the Chinese company has leveraged on the technology to come up with its own adventure bike based on the F 850 GS called the 900 DS. Given that Voge is already present in the local market, there's a small chance we could see the 900 DS on local roads soon. 
CFMOTO 800MT
CFMOTO's 800MT marks a notable stride into a grander adventure realm, standing out distinctly within their lineup. This release, available in Sport and Touring variants, represents CFMOTO's entrance into a more robust adventure bike category.
Boasting a commanding 95 horsepower from its 799cc parallel twin engine equipped with electronic fuel injection, liquid-cooling, and dual-overhead cams, the 800MT emerges as the powerhouse in CFMOTO's ADV series. Featuring standard KYB suspension and cornering ABS, it's engineered with top-tier components for enhanced performance and safety.
Packed with premium features, the 800MT offers a full-color TFT screen, ride-by-wire throttle, multiple riding modes, and a bidirectional quick shifter as standard, elevating the riding experience and showcasing CFMOTO's commitment to delivering high-end capabilities within this model.
Voge 525 ACX
Here in the Philippines, Voge is already selling its naked streetfighter called the 500R. At EICMA, the Chinese manufacturer revealed an exciting neo-retro scrambler based on the same platform as the 500R. Dubbed the 525 ACX, it sports an updated engine, charming neo-retro aesthetics, and rugged scrambler capabilities. Given the rising popularity of affordable, entry-level big bikes in the Philippines, could Voge launch the 525 ACX here this year? Fingers crossed.
CFMOTO 450NK
CFMOTO has been making headlines with its latest lineup, showcasing a commitment to innovation and diversity. Among these newcomers, the 450 NK stands out as a remarkable addition, drawing the attention of motorcycle enthusiasts by building upon the foundation of CFMOTO's existing model, the 450 SR.
What truly sets the 450 NK apart in the entry-level category is its potent engine. Boasting a 449cc, liquid-cooled, fuel-injected, parallel-twin engine with a unique 270-degree crankshaft, this bike not only delivers a robust exhaust note but also evokes the spirited feel of a V-twin engine, infusing each ride with an exhilarating sense of performance.
This powerhouse of an engine translates into tangible results on the road, offering 50 horsepower at 10,000 rpm. The 450 NK emerges as a spirited contender, ready to conquer various terrains with its blend of innovation, style, and performance, showcasing CFMOTO's ability to craft motorcycles that appeal to both newcomers and seasoned riders.