Italjet unveils the new Dragster 300 at EICMA 2023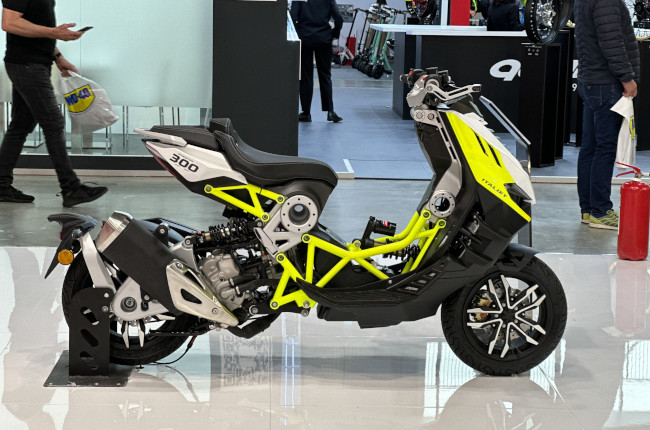 Italjet, the boutique scooter manufacturer with a thing for defying scooter norms, showcased its new models at EICMA 2023. Amidst the buzz, the Dragster 559 Twin drew attention, but Italjet has a more grounded offering for those seeking a thrilling yet down-to-earth ride.
The Dragster 300, positioned above its 125 and 200 counterparts, finally made its debut. While its spec sheet shares similarities with its smaller siblings, it deviates in the realm of sheer performance. A new 278cc liquid-cooled, fuel-injected single-cylinder engine propels the Dragster 300, boasting 23.8 horsepower and 26 Nm of torque. Italjet promises a ride that's "smooth yet spirited," a testament to its commitment to delivering a dynamic scooter experience.
Diverging from the high-performance manual transmission of the Dragster 559 Twin, the Dragster 300 opts for a more commonplace CVT, aligning with the 125 and 200 models. However, this choice doesn't compromise on quality. The scooter features top-tier components, including Brembo calipers with dual-channel ABS and the iconic single-sided front suspension system characteristic of other Dragster models.
Practicality and accessibility are core tenets of the scooter ethos, and the Dragster 300 embraces this philosophy. Despite the inherent sacrifice of some practicality for the sake of its avant-garde styling, this model remains a welcoming option for riders of all sizes, thanks to its dry weight of 128 kilograms.
While the Dragster 300's pricing and availability details are yet to receive Italjet's official stamp, anticipation runs high for its European launch in 2024. The expectation is that it will carve its path through European streets before venturing to captivate riders in other markets. As Italjet continues to push boundaries, the Dragster 300 exemplifies their dedication to offering not just a mode of transport but an exhilarating journey for scooter enthusiasts.