2024 Yamaha MT-09 SP breaks cover in international market
Yamaha didn't keep enthusiasts waiting for long, as they unveiled not one but two exciting models in quick succession. First came the introduction of the 2024 MT-09, and just two days later, the covers were pulled off the updated 2024 MT-09 SP. What's intriguing is that the 2024 MT-09 SP doesn't deviate from the restyled design language of the regular MT-09, ensuring a consistent visual identity across the MT-09 family. 
Under the surface, the 2024 MT-09 SP maintains its lineage with the same trusted 890cc CP3 engine, delivering the power and performance riders have come to love. Noteworthy are the addition of acoustic amplifier grilles atop the redesigned fuel tank, enhancing both aesthetics and auditory appeal. 
However, where the SP truly shines is in its specific enhancements. The front end receives a substantial upgrade in the form of a new DLC-coated 41mm KYB front fork, offering full adjustability to fine-tune the ride. Complementing this is the rear Öhlins monoshock with remote preload adjuster, providing riders with a highly customizable suspension setup. These SP-specific upgrades ensure that the 2024 MT-09 SP stands out as a true performance-focused variant within the MT-09 family.
When it comes to stopping power, the 2024 MT-09 SP goes the extra mile. It's equipped with Brembo Stylema monoblock calipers, known for their precision and responsiveness, and a Brembo master cylinder, ensuring riders have the utmost control over their braking. Additionally, the bike features ABS at both ends, a crucial safety feature that's become a standard in the modern riding experience.
But the enhancements don't stop there. Yamaha understands that riders value control and customization, and this is where the exclusive Yamaha Ride Control settings come into play. They empower riders to fine-tune engine power and tailor the intervention levels of rider aids to suit their preferences. Whether you're a performance enthusiast or someone who values safety and comfort, these settings allow you to have a more personalized riding experience on the 2024 MT-09 SP.
In the realm of convenience and innovation, the 2024 MT-09 SP introduces the Smart Key system, a feature that modern riders are sure to appreciate. This electronic key fob not only simplifies the process of starting the engine but also grants you the ability to effortlessly control the fuel cap. No more rummaging for keys—just a quick turn of the switch and you're ready to roll.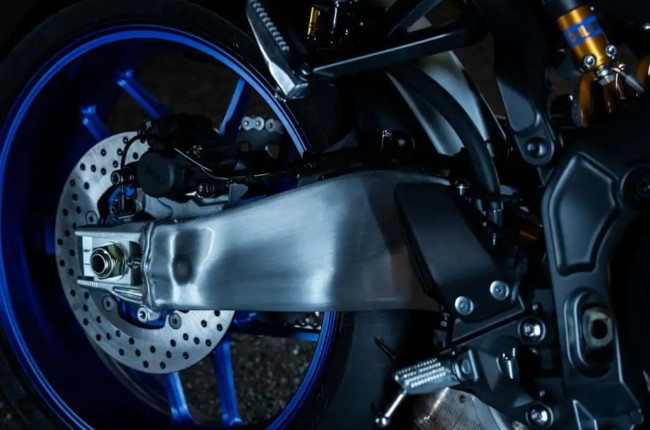 The 2024 MT-09 SP presents itself with distinctive style elements that set it apart from the crowd. Its polished, clear-coated aluminum swingarm is a signature feature that not only showcases Yamaha's attention to detail but also adds a touch of sophistication to the bike's design. Furthermore, the 2024 MT-09 SP stands out with a unique Liquid Metal and Raven color scheme, evoking an exclusive and dynamic look.
---