Ensure inclusive and equitable quality education and promote lifelong learning opportunities for all.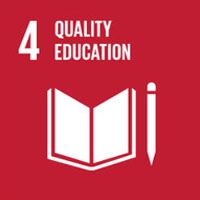 The Service-Learning Component in the Environmental Philosophy Course in the Graduate Program
The Service-Learning approach in the Philippines emphasizes students learning from community engagement. However, the collaboration with the community and evaluation of the impact of service-learning projects must be highlighted or added in the Philippines. Service-learning can be re-imagined by combining Participatory Action Research for Community Impact (PARCI). This approach involves meaningful collaboration with community stakeholders and sustainable outputs that foster a long-term relationship with the community. Re-imagined service learning is rooted in social justice principles informed by the Social Teachings of the Catholic Church. It aims to bring about social transformation by sustaining a long-term relationship with the community outside academia's classrooms.
De La Salle University aims to be a leading learner-centered and research University bridging faith and scholarship, attuned to a sustainable Earth, and serving the Church and society, especially the poor and marginalized.  DLSU continually trains and supports educators who embody the mission of nurturing young adults to be socially engaged and ethical citizens of the world. The whole-person education framework reflects DLSU's vision. It amplifies the latter by providing the tools for the institution and its stakeholders to build their competencies so that the vision and related goals do not remain as such but result in genuine individual, social, and ecological transformation. Contemporary views on education move toward whole person and community-building. The environmental degradation of the Philippines requires a holistic response.
ENVIPHI is an optional course for graduate students in the Philosophy program. In the first term of AY 2022-23, Dr. Jeane Peracullo updated the syllabus to include service learning when graduate students chose ENVIPHI as their elective. As COVID-19 restrictions eased in the Philippines, the class could visit the Lian Fisherfolk Association (LFA) in Lian Batangas for the service learning component of the course. It makes Environmental Philosophy the first service-learning course at the De La Salle University graduate level in the Philippines. The course will familiarize students with local environmental movements and encourage contextual reflections. Many environmental philosophers globally are activists deeply influenced by their involvement in environmental issues and concerns. Therefore, the course provides an excellent opportunity to integrate service learning.