UST Museum mounts Orasyon exhibit, aims to rekindle Filipino Tradition
At exactly 6 p.m., the Orasyon: Dasal ng Pamilyang Pilipino exhibit was formally opened with the praying of the Angelus, which UST Museum Director Rev. fr. Isidro C, Abano, O.P., SThL led at the Main Gallery on October 3, 2023.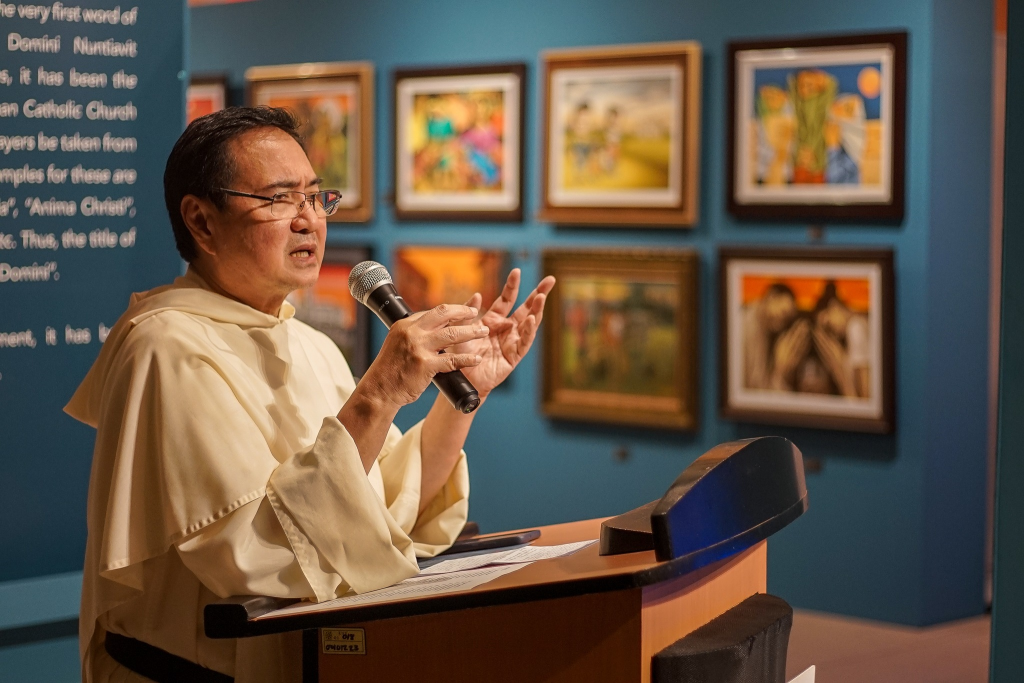 According to fr. Abaño, the exhibit not only showcases the Filipino tradition captured in the paintings, but it also serves as a reminder of the devotion, a habit performed during dawn, noontime, and dusk that allowed family members to gather and to express their gratitude to our Lord. "In line with our tradition, I hope we establish a connection to the past activities. And, if it helps, we hope to revive it. And part of it is the various interpretations of the artists here, who share their talents with us and who give the message of their artwork," fr. Abaño said in a mix of Filipino and English.
Meanwhile, Secretary-General Rev. fr. Louie R. Coronel, O.P., EHL noted that this devotion is tethered to the life of every Thomasians and every Filipino, highlighting that this exhibit celebrates God's love. "Itong exhibit na ito ay tungkol sa pagmamahal ng Panginoon, ang pagmamahal na ating tinanggap, at [pagmamahal na] ibabahagi sa iba," fr. Coronel said.
The Angelus is a prayer that commemorates the Gospel, specifically where St. Gabriel the Archangel announced the incarnation of Christ to the Virgin Mary. The University likewise practices this devotion at 12 noon and at 6 p.m., where everyone is enjoined to pause and to pray.
The paintings featured in the exhibit are from UST Museum's visual arts collection and from the rich personal collection of Mr. Ron David, who said that the exhibit is a manifestation of the profound importance and deep meaning of prayer. "These remarkable works of art take us on a visual journey, capturing the moments when the devout souls pause in reflection and prayer, resonating the Angelus bells bellowed His call," David said.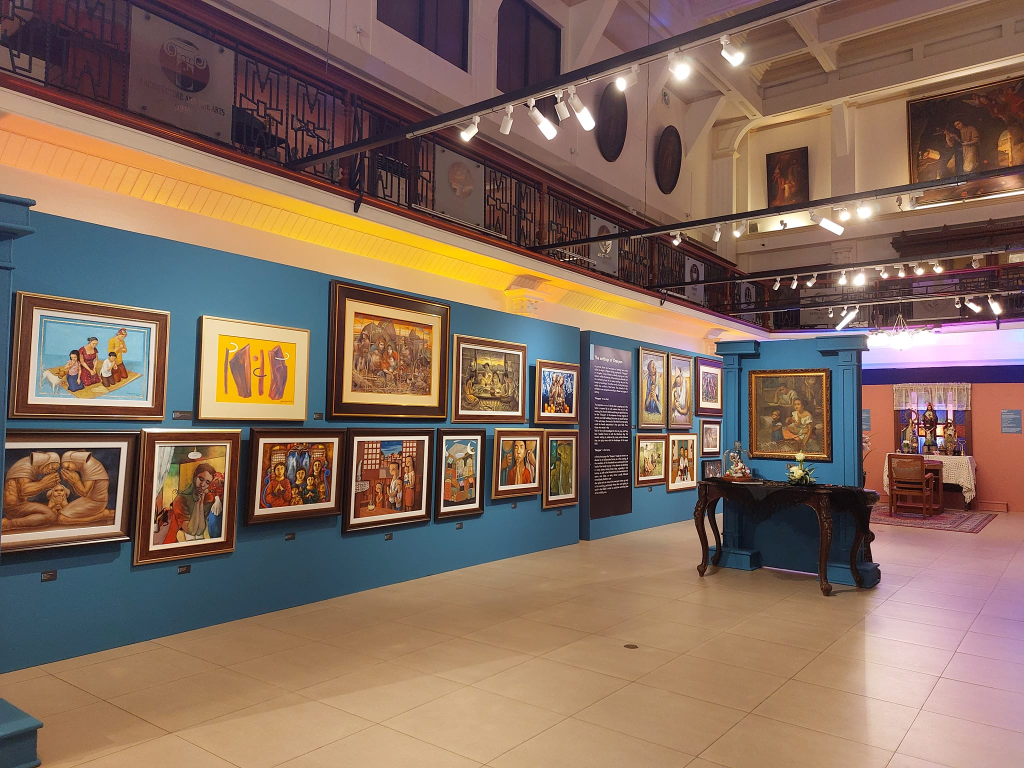 Exhibit Walkthrough
Depicted in the paintings mounted at the makeshift hall configured into an old Filipino House, Orasyon was captured in a multitude of interpretations by notable painters, a mix of traditional and contemporary expressions–from Carlos "Botong" Francisco's images of family members pausing their activity to kneel and pray to Raul Isidro's non-figurative take on mankind's quest to holiness, as represented by the Timbers of Mother Earth.
One need not to have a scrutinizing pair of eyes to notice the color embellished on the walls, of teal and rose hues, which actually hark at the Virgin Mary. The exhibit was also timed in celebration of the month of the Holy Rosary.
The space pulls the visitors to see beyond the walls. As they walk past the back-to-back Botong-Jose Delos Reyes centerpiece, they are led to the oratorio, or the prayer room, that invites them to also pause and whisper a prayer as the exhibit is more than just curated objects.
The artists exhibited in Orasyon are Hermes Alegre, Wilfredo Alicdan, Antonio Angelito, Marcel Antonio, Tam Austria, Aries Bagtas, Jessa Balag, Otep Bañez, Norma Belleza, Jeho Bitancor, Remy Boquiren, Angel Cacnio, Demet Dela Cruz, Jomar Delluba, Robert Deniega, James Gabito, Calor Gabuco, Manny Garibay, Romero Gutierez, Jun Impas, Raul Isidro, Alvaro Jimenez, Edwin Ladrillo, Lorebert Maralita, Anita Magsaysay-Ho, Nik Masangkay, Almer Moneda, Francis Nacion, Roel Obemio, Jay Pacena, Anthony Palo, Aljo Pingol, Loreto Racuya, Irvin Roxas, Ivan Roxas, Dominic Rubio, Blaine San Luis, Roger San Miguel, Robert Shook, Abril Valdemoro, Lydia Velasco, Michael Villagante, and Migs Vilanueva.
The exhibit will run until October 30, 2023.