Undergraduate research underpin food security, safety and processing concerns in the coconut industry, presented during the 8th Lourdes Custodio research festival
Last AY 2022-2023, the Food Technology undergraduate research was conducted as part of the Service-Learning Project (SLP) for the Research and Thesis Writing course of 4th Year BS Food Technology students. The Department of Food Technology collaborated with government institutions (Department of Trade and Industry (DTI) – Quezon and Batangas Provinces and Philippine Coconut Authority (PCA) – Quezon Province) to address concerns on the processing of coconut products by the different partner communities in Batangas and Quezon Province. The needs of the community were assessed last academic year during the 2nd Term of AY 2021-2022. Some of the concerns raised includes surplus of coconut, underutilized coconut by-product, unstable shelf-life, and other concerns in food packaging, safety, and quality. The approach of the participating research teams involved modification on the existing process or innovation of the product to allow it to compete in the local (or even international) market.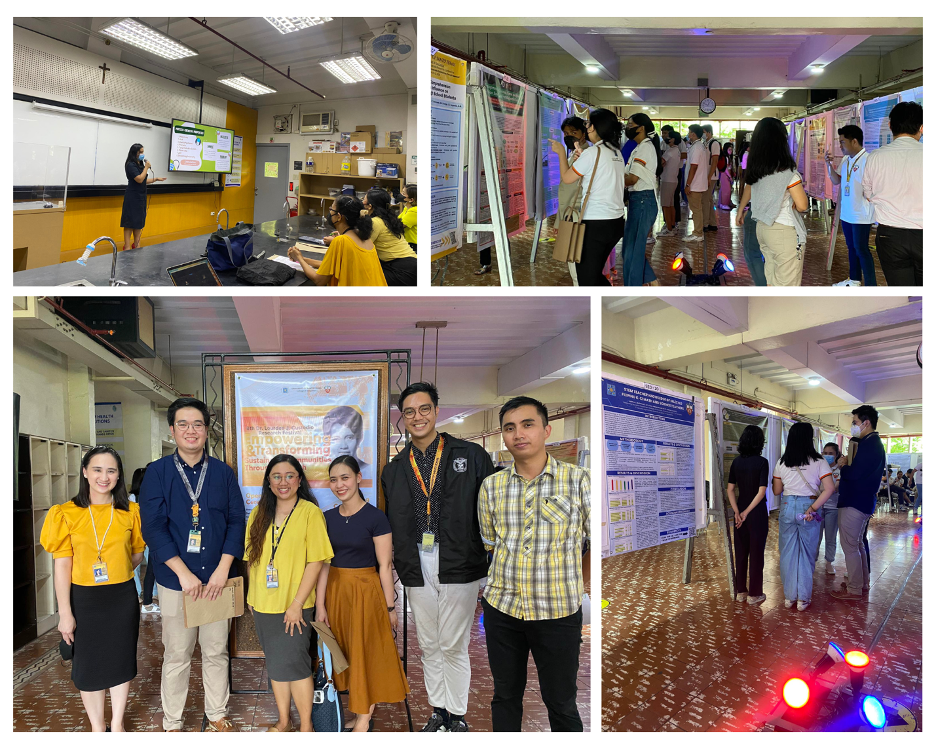 Some of the products developed/ improved by the students includes coconut chips, imitation soy sauce, VCO dressing, buko pie, buko juice, etc. The researchers showcased their works in a form of poster and oral (5-Minute Thesis) presentation competition during the 8th Dr. Lourdes J. Custodio Research Festival, which was held at the Albertus Magnus Building, College of Education with the theme "Empowering and Transforming Sustainable Communities through Research."
Both the 5-Minute Thesis (5MT) and Poster presentation happened last May 10, 2023. The goal of the 5MT is to enable the students to explain their works to non-food technologists in a manner that they can easily understand, hence, the judges were composed of people from various fields, including Ms. Florimae E. Paimalan, RND, MHPEd (Academic Staff, Department of Nutrition and Dietetics), Ms. Leidy May G. Alanajes, MA (Academic Staff, Department of Filipino), and Assoc. Prof. Grace F. Azares, RCh, MSc (Academic Staff, Department of Food Technology). Winners of 5MT are Mr. Matthew Stephen Andrei C. Sy and Ms. Kaitlyn Mary E. Concepcion who tied in the 3rd Place, Ms. Mikaella Erica Cachero (2nd Place), and Mr. Dominique S.G. Lizardo (1st Place).
Likewise, the judges for poster presentation is composed of Mr. Emmanuele V. Mistades, RND (Academic Staff, Department of Nutrition and Dietetics), Ms. Jerimae S. Bernardo, MSc (Academic Staff, Health Allied Strand – USTSHS), and Mr. Jairus Kent S. Vital, MTM (Academic Staff, Department of Food Technology). Winners of the said competition are the team of Mr. Moses C. Ermita supervised by Mr. Feliz Louie D. Salazar, MSc (3rd Place), the team of Ms. Danielle Justine L. Cauton supervised by Mr. Froilan T. Ayaquil, MSc (2nd Place), and the team of Ms. Reina Mari A. Acantilado supervised by Assoc. Prof. Elizabeth H. Arenas, PhD.