Printing Your Next Meal: The Art and Science of 3D Printing in Food Applications
As part of the requirements in the FT 7432: Undergraduate Seminar, a local webinar was organized by the 4th year students of BS Food Technology (4F2) last March 22, 2023, from 9:00 AM – 12:00 PM via Zoom Meetings. The webinar is entitled "Printing Your Next Meal: The Art and Science of 3D Printing in Food Applications" as it depicts different utilizations, advantages, and applications of 3D printing in the progressing world of food. The University of Santo Tomas food technology community participated in the webinar, wherein two guest speakers were invited to share their significant insights in regard to 3D Food Printing.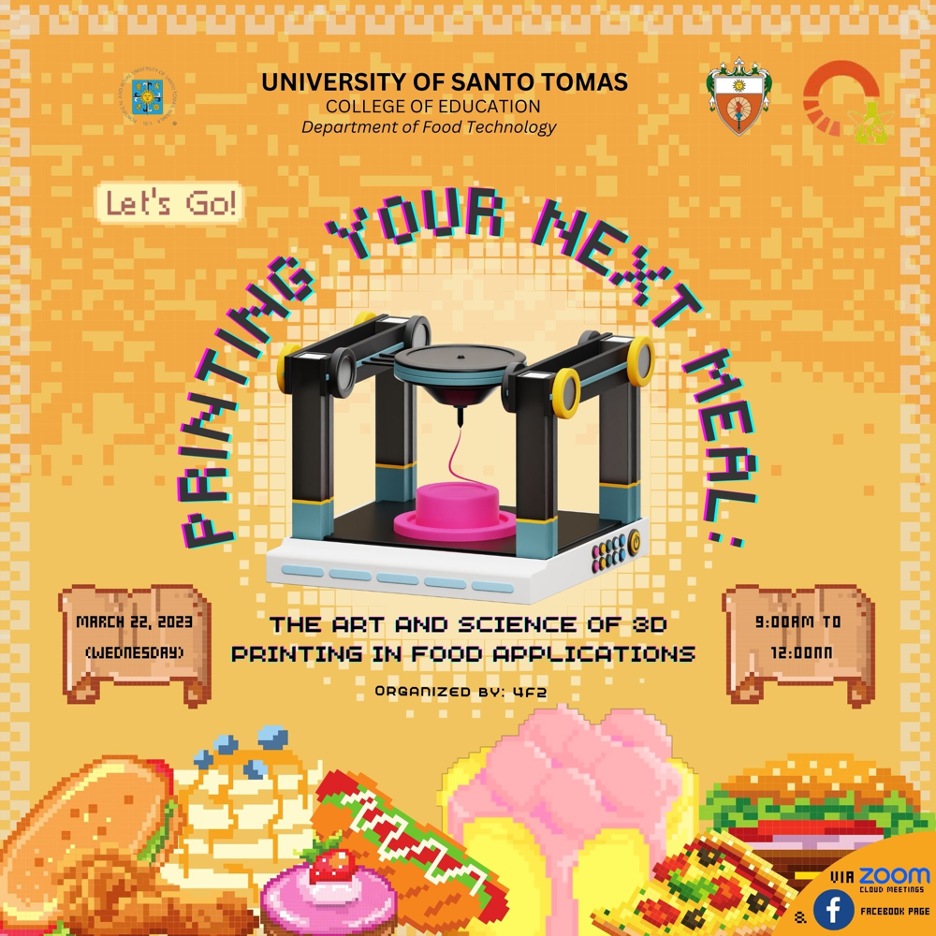 The first speaker, Engr. Ronell C. Oropesa, CpE, LPT from FAB Lab Bicol University, talked about the science and technology behind 3D Food printing. It highlighted the definition and uses of 3D printing. It also gave the history of 3D printing technology, its methodology, and even the raw materials utilized. Apart from that, it emphasized the steps and types of the 3D printing process as well as their advantages and disadvantages.
Moreover, the second speaker, Mr. John Judilla from Cobalt Technology, expounded on the technical side of the 3D printing process by discussing its applications to different industries, especially in food. The highlights of the second lecture consisted of the relationship between the use of software (CAD) and hardware (3D printing machines) to come up with desirable 3D food products. In line with that, it emphasized the advantages of the 3D printing process to the current and future technologies such as the rise of space foods, vegan foods, etc. Lastly, the lecture presented different companies that practiced and executed 3D printing in the food industry.
Furthermore, overall insights regarding 3D food printing were established. It provided the audience with a different glimpse of modern food technology. The audience learned that 3D food printing can be used for personalization, wherein the 3D food products were created and personalized for specific and important purposes in nutrition and health, food processing, and even in sales. Another thing learned was that 3D food printing improves creativity, which allows culinary and food scientists to develop methods and new product development and gave way to possible food presentations. In relation to that, 3D food printing enhanced the nutritional quality of food products as the composition and ingredients used were precisely considered to address patients with certain problems regarding food intake. Apart from that, it can sustain food as exact and accurate formulations were considered in making a new dish. Lastly, even though there were many advantages, there were particular challenges in 3D food printing as it was emphasized that 3D printing requires energy and was expensive.
Being a food technologist will be a challenge in 3D food manufacturing as the principles of food safety and quality are applied in incorporating food with modern technology. In line with that, it was said by the speakers that experts like engineers are focused only on the technical aspects, whereas food technologists are on the food principles, formulations, and systems.