Food Technology Juniors promote implementation of HACCP in food industry
When the coronavirus disease 2019 (COVID-19) was declared a pandemic by the World Health Organization (WHO) on March 11, 2020, concerns on its transmission via food and survival on food packaging materials have surfaced. One of the industrial sectors that had to overcome different challenges during the pandemic is the food sector, striving to produce and secure sufficient and safe food. Food security, food safety and food sustainability are recognized as strongly affected dimensions of food systems during the Covid-19 pandemic (Galanakis, 2020).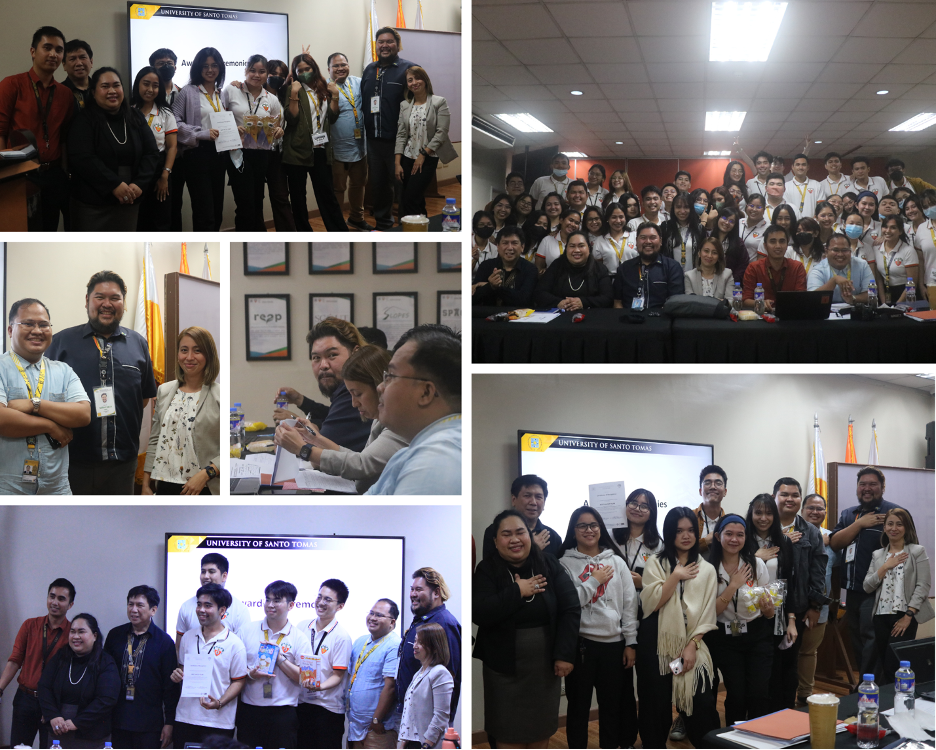 The implementation of food safety management systems such as Hazard Analysis and Critical Control Points (HACCP) approaches are important for identifying, controlling and decreasing food safety risks in the food supply chains (Dyekic et al., 2020) while food safety legal compliance is necessary in compliance with the recently enacted Food Safety Act 2013 (RA 10611).
Professional Food Technology course facilitators, Atty. Rafael J. Bautista, Mr. Feliz Louie D Salazar, and Ms. Shella C. Montinola, convened to implement an Integrated Course Inquiry Project in Food Laws, Food Quality Assurance, and Food Safety to the Food Technology (FT) Junior students. The whole day event, titled, "HACCP Assessment, Planning and Defense" was held on May 24, 2023 at the 1/F Dr. Lourdes J. Custodia ICD Room, Albertus Magnus Building. The goal of this activity is to develop the critical thinking skills, technical competencies, build group collaboration and instigate learning capabilities of students by conducting a HACCP assessment/ plan on food items assigned to them.
Two sections namely the 3F1 and 3F2 which was composed of eight (8) groups competed and defended their HACCP assessment/plan after a set of invited industry practitioners who served as judges, namely: Ms. Analyn Berganio (Product Development Specialist, San Miguel Foods, Inc.) , Mr. Nino Carlo Isnit (Agriculturist I/OIC, Fish Processing Section Fisheries Post Harvest Technology Division), and Mr. Jomar Rejano (Auditor, NSF International – Philippines). The event was co-organized by the 3rd year students, headed by Ms. Christine Diana A. Fabros and moderated by Ms. Cheenie S. Banaag and Ms. Antoinette Rose Imee S. Soyangco.
Mr. Salazar, who delivered the welcoming message said that HACCP is a hair-raising quest in the food industry as it entails high level of professional skills. He highlighted its importance in addressing the food security of the country, and the role of food technologists in implementing such practice.
Three groups were awarded at the end of all presentation. Mr. Pastoriza and team who conducted their assessment on Johnny's Chicken Strips, won the 3rd place. Ms. Cabagnot and team won the second place as they presented their assessment on Donburi meal. And Ms. Campos and team bagged the Best HACCP award with their work on Breaded Porkchop.
Ms. Montinola, in her key take away message mentioned that HACCP is never an easy task in the Food Industry. She added that having experienced this task, the students are one-step ready on becoming a HACCP expert and consultant in the future.
As the program ends, Atty. Bautista highlighted that a food safety incident may tarnish a business reputation since social media and digitization is easily accessible and well-utilized nowadays. Controversial cases on food which he encountered in the past as a corporate lawyer could have been prevented, had HACCP awareness and implementation been available at that time.
References:
Djekic I, Nikolić A, Uzunović M, Marijke A, Liu A, Han J, Brnčić M, Knežević N, Papademas P, Lemoniati K, Witte F, Terjung N, Papageorgiou M, Zinoviadou KG, Dalle Zotte A, Pellattiero E, Sołowiej BG, Guiné RPF, Correia P, Sirbu A, Vasilescu L, Semenova AA, Kuznetsova OA, Vrabič Brodnjak U, Pateiro M, Lorenzo JM, Getya A, Kodak T, Tomasevic I. Covid-19 pandemic effects on food safety – Multi-country survey study. Food Control. 2021 Apr;122:107800. doi: 10.1016/j.foodcont.2020.107800. Epub 2020 Dec 1. PMID: 33281304; PMCID: PMC7707641.https://www.ncbi.nlm.nih.gov/pmc/articles/PMC7707641/
Olaimat, et al. Food Safety During and After the Era of COVID-19 Pandemic Food Microbiology Volume 11 – 2020 | https://doi.org/10.3389/fmicb.2020.01854 https://www.frontiersin.org/articles/10.3389/fmicb.2020.01854/full