Food Beyond the Box: Reimagining Food Entrepreneurship from Scratch to Hatch
As part of the requirements in the FT 7432: Undergraduate Seminar, the 4th year Food Technology (4F1) students kickstarted a local webinar entitled "Food Beyond the Box: Reimagining Food Entrepreneurship from Scratch to Hatch." The event was held last March 22, 2023, Wednesday, from 1:00 to 3:00 pm, via Zoom Cloud Meetings, with the Department of Food Technology students and faculty as its participants. This webinar has two speakers who are homegrown Thomasian graduate professionals. The first speaker was Ms. Maria Solidad Linay, who discussed the Licensing and Registration of food businesses, whereas the second speaker was Ms. Jillian Kirsten Oli, who tackled her experiences in establishing and managing a food business.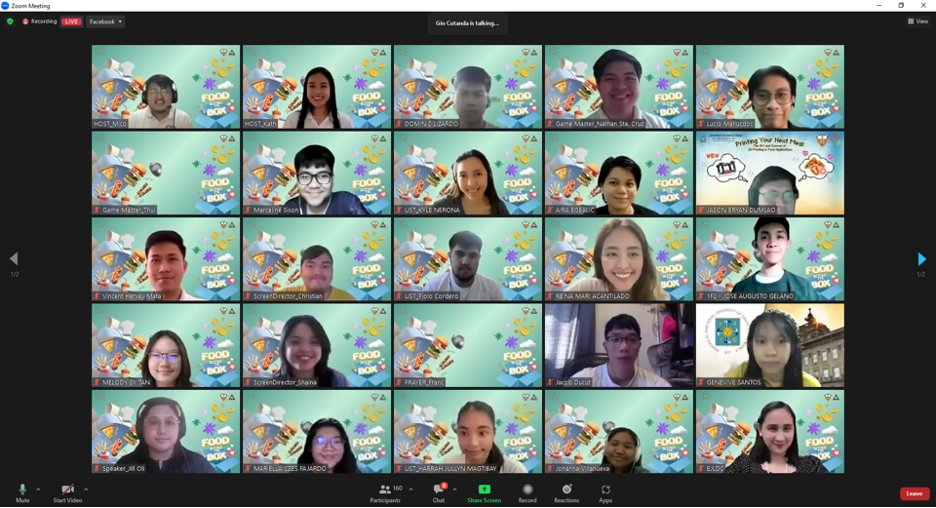 Ms. Linay emphasized that micro-small and medium enterprises (MSMEs) greatly contribute to the nation's economy. Therefore, she also tackled the importance of complying with the requirements of a food business operation should have. She talked through the general requirements for Food Business Operations in compliance with government regulations. Some of these are the Barangay Clearance, Mayor's Business Permit, Sanitary Permit, DTI Business Name Registration, as well as Fire Safety Inspection Certificate. In her discussion, it was shown that requirements vary depending on the type of business (e.g., manufacturer, distributor, etc.) one would establish. Ms. Linay also discussed the different processes of the required procedures, as well as samples of the forms and pre-filled sites. At the end of her discussion, she highlighted that knowing these procedures not only benefits those food business owners and the safety of the customers but would also be an advantage in the corporate world.
On the other hand, Ms. Oli equipped the young entrepreneurs with proper knowledge in her discussion on how to start and manage a food business. She started her discussion by inspiring the participants by giving an overview of their family business, Roger's Topsilog House and Boofiya Arabic Food Corner, and giving tips on how one idea could be developed into a product. She also emphasized the important steps in establishing a business, which are as follows: (1) Knowing the latest market needs and wants, (2) determining the product or services to develop, (3) testing the product, (4) determining the available funds, (5) finding store location, (6) analyzing and studying the business, (7) determining the business structure, (8) registering the business and acquiring the required documents, (9) finding trusted suppliers, and (10) opening a bank account for the business. Furthermore, she highlighted the importance of adapting food trends and listening to the comments of the customers as this would further improve one's business.
As future food technologists, it is beneficial to be knowledgeable in the field of licensing and registration of products. Moreover, as people with a background in food innovation, one should also be wary of setting up their own business. This will not only provide additional income, but it will also become a platform for growth and expanding one's knowledge regarding business. As mentioned by Dean Pilar I. Romero in her opening statement, "Entrepreneurial mindset is very important – entrepreneurship powers up a nation's development."