4th Helen Ocampo Memorial Lecture Cocotalks: Exploring the Value of Coconut as a Functional Food
The Department of Food Technology and the Department of Nutrition and Dietetics, with the assistance of 4F1 and 4F2 students taking FT 7432: Undergraduate Seminar, organized the 4th Helen Ocampo Memorial Lecture, as part of the 97th Founding Anniversary of the UST College of Education, entitled, "Cocotalks: Exploring the Value of Coconut as a Functional Food," held last April 21, 2023, Friday, from 9:00 am to 12:00 pm via Zoom Cloud Meetings and Facebook page of the UST College of Education. The event intended to discuss the capability and potential of coconut when utilized as a functional food. It was attended by the students of BS Food Technology and BS Nutrition and Dietetics together with their respective faculty members, and other guests outside the University of Santo Tomas.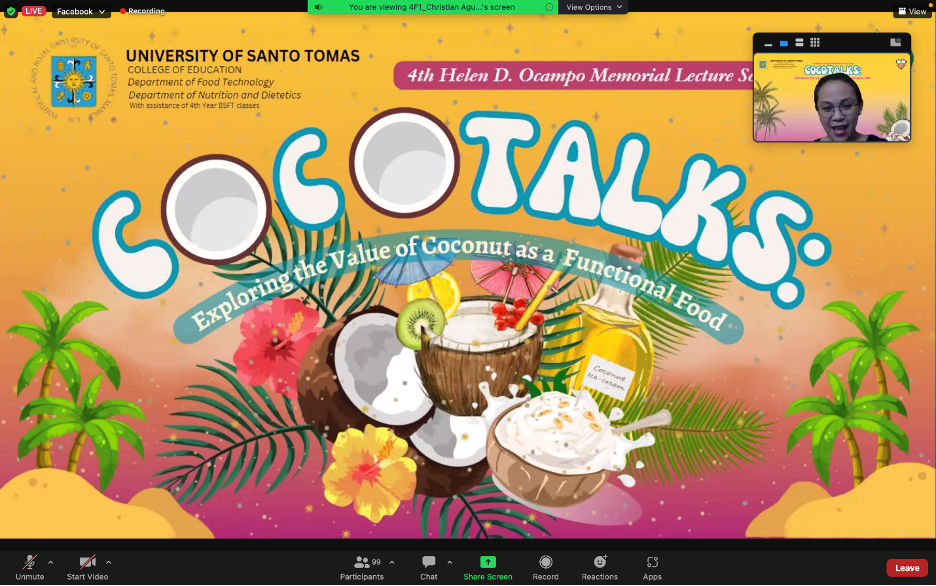 The webinar had two speakers who are professionals and has successfully proved the potential of coconut to possess functional benefits. The first speaker was Professor Yanti, Ph.D., a faculty member of the Department of Food Technology of the Atma Jaya Catholic University of Indonesia, whereas the second speaker was Acad. Prof. Fabian M. Dayrit, Ph.D., an academic staff of the Department of Chemistry of the Ateneo de Manila University.
Ms. Yanti discussed the nutraceutical and cosmeceutical potency of coconut haustorium. The results of her study depicted that coconut haustorium possesses antioxidant properties, which are beneficial to protect the skin from oxidative stress. Furthermore, it also boasts SPF Value, which can be a potential UV protectant. Lastly, it had tyrosinase inhibitory activity that can protect the skin from pigmentation and can act as a whitening agent. The study also created microemulsions from coconut haustorium that possess the said benefits.
On the other hand, Mr. Dayrit presented arguments regarding the benefits of virgin coconut oil (VCO). The presentation indicated that virgin coconut oil is a natural MCT oil and has medium-chain fatty acids that provide energy, decrease cancer cells, and improves adiposity. Additionally, he discussed the antimicrobial, antibacterial, and antiviral activity of lauric acid, which is predominant in VCOs. Lastly, the efficacy of VCO against SARS-CoV-2 virus and its symptoms was expounded.
At the event's conclusion, students and faculties were able to grasp more of the functional benefits of coconut haustorium and virgin coconut oil. Moreover, as people whose careers might stick in the food industry, the wisdom pertaining to these coconut by-products is beneficial as it can trigger the production of other studies that explore the potential of coconut for other functional purposes.