UST confers honorary degree upon Wilcon Builders Foundation, Inc. founder
The University of Santo Tomas conferred the Doctor of Commerce degree, honoris causa, upon Faculty of Engineering alumnus Wilcon Builders Foundation, Inc. founder and chairman emeritus, Mr. William T. Belo in a solemn investiture that recognized his exemplary life-long work and philantrophy. The University's top officials led the conferment rites on September 28, 2023 at the Dr. Robert C. Sy Grand Ballroom of Bl. Buenaventura G. Paredes, O.P. Building.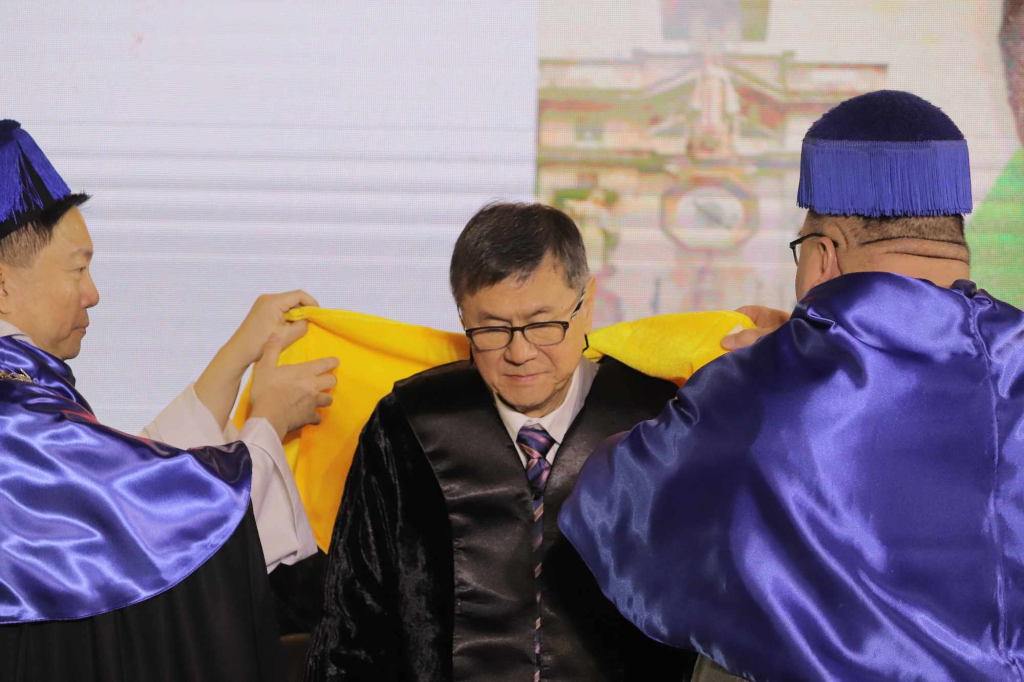 Tribute to the homebuilding essentials provider
UST Rector fr. Richard G. Ang, O.P., PhD hailed Belo's perseverance and resourcefulness, which stemmed from his family's entrepreneurial upbringing. The Thomasian alumnus' shrewdness led him to pioneering ventures and his innovative approaches paved way for thriving enterprises that opened doors to countless individuals. "He is a man of vision. His leadership in the corporate world has not only revolutionized industries, but also created opportunities for the economic growth of the Philippines," fr. Ang said.
The Rector recalled that the recent lockdowns also prompted them to improve and to rehabilitate the Thomasian community's home in preparation for the new work and study setup; he likewise expressed his gratitude to Belo for lending his hand. "Home is a basic human need that provides comfort and safety. For this reason, the legacy of our honorary as the alchemist of home improvements will live on in our hearts and memories," fr. Ang said.
Graduate School Dean Prof. Michael Antony C. Vasco, PhD, referencing economist Adam Smith, described Belo as a person who selflessly offered his ability to put himself in the position of impartial observer to form a sympathetic notion of the moral merits of the case, thus demonstrating the three Thomasian core values of competence, compassion, and commitment. "Mr. Belo's belief of providing support to human development by sharing the fruits of his success to the greater number of people who are in need of such assistance, by making his business empire an instrument to provide access and opportunity to improve the lives of people and the environment, demonstrates his existential concern to his fellow men and penchant support for UST's mission of serving the Church, the nation, and the global community," Vasco said.
Credit to a well-rounded Thomasian formation
In his message of gratitude, Belo attributed his success to the Thomasian education he obtained and eventually imbued in running his enterprise–the largest and leading distributor of homebuilding essentials in the country. "With our University's trust to develop competent, compassionate persons committed to serve the Church, the nation and the global community, I became a well-rounded individual well-equipped with technical know-how, social, and interpersonal skills, and most importantly, the moral fortitude to pursue my dreams not for myself alone but for God, [and for my] country as well," Belo said. He then thanked his professors for molding him, as well as enabling him to translate his aspirations into reality.
Belo also shared the three entwining aspects he learned in his career: 1) The importance of value-driven vision and dreams, and what you want to become. 2) The value of hardwork in building meaningful relationships. 3) The sense of fulfilment in service in giving back.
The Faculty of Engineering and the UST Graduate School spearheaded the cause for Belo's recognition, which passed received the stamps of approval of the Council of Regents, Academic Senate, and the University's Board of Trustees.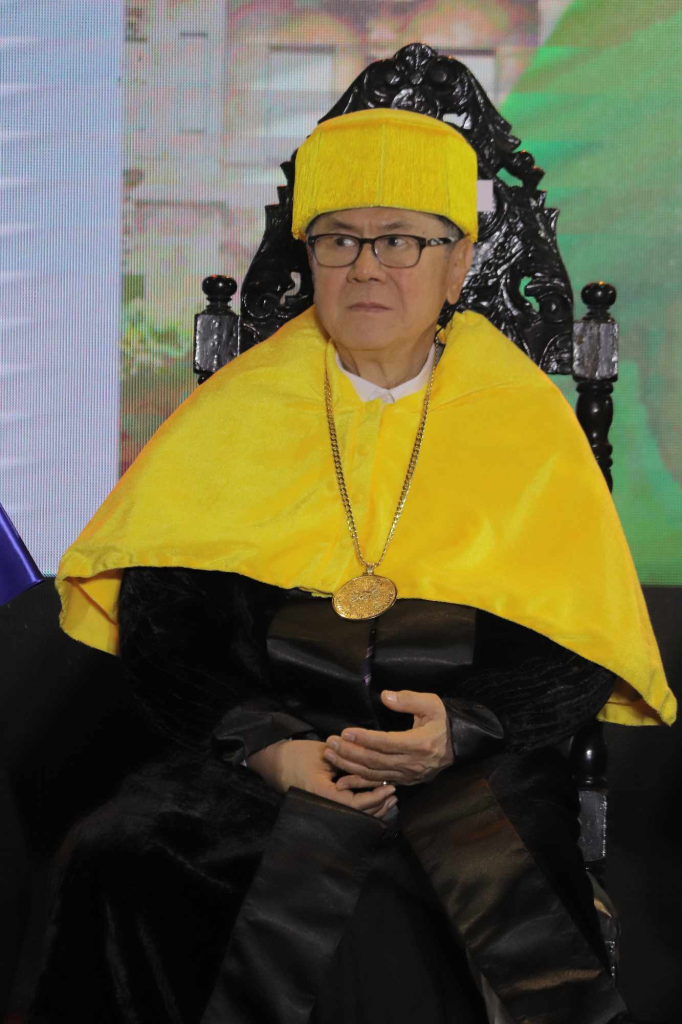 The man behind Wilcon
With a degree of BS Electronics and Communications Engineering (BS-ECE) from the Faculty of Engineering, Belo started as a simple entrepreneur and owner of a 645-square-foot hardware store along Quezon Avenue in 1977.
Driven by his focus and desire to be of service to Filipino homebuilders, and with a strong belief that Filipinos should be given the best product choices for their homes, Belo founded the Wilcon Builders Depot, and Wilcon Home Essentials — Wilcon Corporation's two-store format that covers a wide array of products, including local and international brands of tiles and flooring, plumbing and sanitary wares, electrical and lighting products, hardware and tools, furniture, furnishings and houseware, paints, appliances, and building materials, among others.
In 2022, he received The Outstanding Thomasian Alumni (TOTAL) Award. He was also named the "Man of the Year of the Asia Leaders" by the Manila Times.
Wilcon Builders Foundation, Inc., a nonstock, non-profit, socio-civic organization, with philanthropic engagements such as providing educational assistance, extending a helping hand to the victims of calamities, and initiating efforts to save the environment.
The University of Santo Tomas confers honorary awards on noteworthy individuals, through the conferment of Honorary Academic Degrees and Honorary Professor ranks.