UIN Syarif Hidayatullah Jakarta Faculty Visit SDRC for Possible Collaborations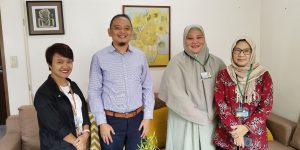 Faculty members of the Universitas Islam Negeri (UIN) Syarif Hidayatullah Jakarta paid a courtesy call on SDRC Director Dr. Homer Yabut on September 15, 2023 to explore possibilities of organizing joint academic activities, develop collaborative research projects, and establish a visiting professor/fellow plan.
Dr. Maila Rahiem, head of UIN's Syarif Hidayatullah Jakarta's Center for International Cooperation and a professor in Early Childhood Education and Social Welfare, and Dr. Amelia Fauzia, a lecturer of Islamic History and Civilization at the UIN, met with Dr. Yabut and SDRC research associate Ms. Klarizze Siddayao, seeking to establish a formal agreement between UIN's Institute of Research and Community Empowerment (LPPM) and DLSU SDRC.
Opportunities for student and academic staff exchange and exchange of publications and similar materials between UIN Syarif Hidayatullah Jakarta and DLSU were likewise discussed.
The photo shows Ms. Siddayao, Dr. Yabut, Dr. Rahiem and Dr. Fauzia during the visit.