KTM unveils striking new 890 Adventure R Rally
KTM just unveiled the 2024 890 Adventure R Rally, a race-inspired model. Taking cues from KTM's Dakar-winning 450 Rally, this bike boasts race-spec components akin to the full-factory rally bike and premium parts from KTM's PowerParts catalog. However, like its predecessors, this Rally edition is limited to just 700 units worldwide, so you'll need to act swiftly to snag one.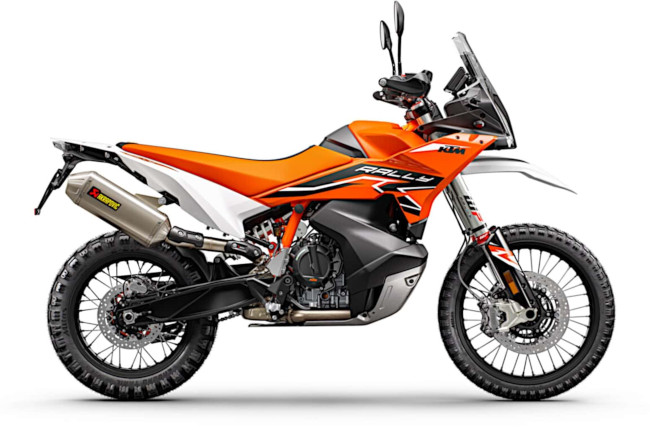 The KTM 890 Adventure Rally, in its limited edition glory, packs an 889cc powerplant delivering 105 horsepower and 73.76 ft-lbs of torque. Handling the suspension duties is the featherweight WP XPLOR PRO 7548 fork system, employing Cone Valve technology, and the WP XPLOR PRO 6746 shock absorber, both sourced from the WP Pro Components program. This high-quality suspension, with 270 mm of travel, is tailored for spirited off-road adventures while ensuring a comfortable ride for travelers lugging hefty luggage or riding with a passenger, be it on pavement or off-road.
For tackling more demanding off-road terrain, the KTM 890 Adventure R Rally steps up its game with robust features. It rolls on heavy-duty wheels with 2.15 x 21″ front and 4.00 x 18″ Excel rims, ensuring durability. Riders will appreciate the race-specific Rally seat for added comfort during long journeys, a high front fender, and Rally footpegs that provide enhanced grip and feedback.
Safety and protection are paramount, with carbon tank guards adding extra shielding, along with safeguards for the engine, rear master cylinder, and suspension components. The Rally model also adopts a Supersprox-Stealth rear sprocket, offering both performance and a distinctive look derived from rally racing.
To shed some pounds and boost performance, the Rally version features the lightweight Akrapovič Slip-on Line exhaust system, which is a remarkable 35% lighter than the standard exhaust, similar to what KTM's factory racing teams use. Completing the package, this new model comes packed with electronics, including a 5″ TFT display, features like Motor Slip Regulation, Cruise Control, Quickshifter+, Rally Mode, Connectivity Unit kit, Offroad ABS system, Traction Control, Turn-by-turn+ navigation, and multiple ride modes to choose from depending on the terrain.