2023 Triumph Speed Triple 1200 RR – First Ride Impressions
As motorcyclists, we all have different preferences when it comes to the bikes we ride. Some riders are drawn to the unwavering performance and excitement of a supersport motorcycle. On the other hand, there are those who favor the stylish and unmistakable charm of a retro-inspired machine. But what if you desire both elements – uncompromising performance and jaw-dropping, retro-inspired styling.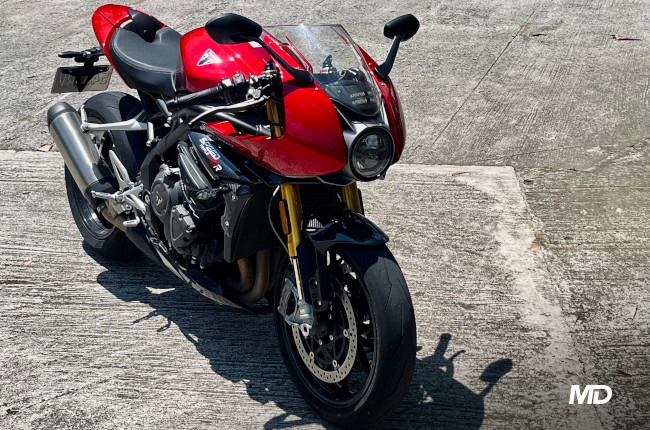 Indeed, these two things sit on opposite ends of the spectrum, but one motorcycle tries to tie them in seamlessly. Who better than one of the most iconic brands in the two-wheeled world, Triumph, to accomplish this feat? The Speed Triple name has been a fixture for nearly three decades. The current-generation Speed Triple 1200 RR is a testament to its legacy, being more powerful, technologically advanced, and aesthetically pleasing than ever before. It represents the perfect culmination of three decades of Triumph's dedication to creating their most performance-oriented model.
Styling that speaks to the heart
A single glance at the Triumph Speed Triple 1200 RR is all it takes to understand that this bike means serious business. It exudes a sort of split personality. On one hand, it boasts an attractive design that captivates both enthusiasts and non-enthusiasts alike. On the other hand, for those in the know, it proudly displays its performance-oriented nature without reservation.
The deliberate design of the half fairing aims to showcase the engine in all its glory, featuring a robust cylinder head and pronounced crankcase with the Triumph emblem proudly centered. Thick three-into-one headers boldly emphasize the bike's punchy three-cylinder engine. A round headlight seamlessly recessed into the front fairing complements the bike's aesthetics. The front fairing seamlessly integrates with the bike's lines, leading to the cropped tail section. The flowing lines of the bike are guided by the exposed aluminum frame, further accentuating its athletic stance.
Seemingly endless amounts of power and torque
1,200cc – a number that instantly commands respect in the world of motorcycles. But when it comes to the Triumph Speed Triple 1200 RR, it's more than just a measure of its engine size. Triumph's triples have earned a reputation as some of the most potent in the industry, and the engine inside the Speed Triple 1200 RR stands as the most powerful triple in Triumph's lineup.
With 177.6 horsepower and 125 Nm of torque, it boasts performance levels akin to superbikes. On the road, this translates into seemingly boundless power. In a matter of seconds, it can achieve speeds that we won't detail in this article. Indeed, thanks to its groundbreaking engine, the Speed Triple 1200 RR is more than worthy of regular track days and spirited rides.
Cutting-edge technology
Raw power and unmatched performance are essential, but they mean nothing if you can't effectively harness that power and maintain control of your bike. Triumph addresses this crucial aspect through a range of advanced technologies.
Throttle-by-wire technology allows precise control over the bike's power delivery. While this technology primarily focuses on safety and control, I must admit there's a slight sense of less immediate response compared to my personal Triumph Street Triple RS. However, this might be a result of complying with Euro 5 regulations, and spending more time with the bike would likely help me adapt to its throttle response.
Nonetheless, the bike offers multiple ride modes, enabling you to fine-tune its performance to match varying weather conditions, road surfaces, and your personal preferences. It also incorporates race-derived features such as cornering ABS, lean-sensitive traction control, and semi-active electronic suspension from Ohlins. The braking system is top-of-the-line, featuring Brembo Stylema calipers and a Brembo RCS master cylinder.
Adaptable and dynamic, but not for everyone
When it comes down to it, because of its neck-snapping performance and killer looks, the Triumph Speed Triple 1200 RR by no means holds commuting and utility to a high regard. Its super-aggressive ergonomics do not make it the ideal choice for commuting, but its active suspension can adjust the ride quality for better comfort. In its least aggressive Rain Mode, it feels as manageable as some of Triumph's smaller bikes. If you really had to, you could strap on some saddlebags and a backpack and take it touring – your back surely won't thank you for it, though. 
It's undeniable that the bike's striking appearance makes it irresistible, tempting you to ride it everywhere – but let's be honest, practicality isn't what draws us to motorcycles. We ride them for more intangible reasons. We ride them because they stir the soul, make us feel alive, and put a huge smile on our faces. As extravagant and extreme as the performance of the Triumph Speed Triple 1200 RR may be, there's an irresistible allure that beckons you to swing a leg over it.
Photo Gallery
---
---