Triumph Speed Triple RS or Speed Triple RR – Which one should you get?
Triumph is renowned for its distinctive reputation centered around two defining elements: the timeless and classic Bonneville model, and its distinctive implementation of three-cylinder engines. Despite their contrasting characteristics – with the Bonneville embodying a laid-back and unhurried demeanor, while the three-cylinder engines exude sheer performance – these facets undeniably constitute the unmistakable essence of this iconic British motorcycle brand. Today, let's look at the bikes that represent the pinnacle of on-road performance from Triumph: the Speed Triple 1200 RS and RR.
On paper, these two bikes claim the throne as the most potent and performance-driven machines in Triumph's extensive lineup. Propelled by a formidable 1,160cc liquid-cooled inline-three cylinder engine, their prowess is undeniable. With a commanding power output of 177 horsepower at 10,750 rpm, and a torque rating that peaks at 125 Nm at 9,000 rpm, these motorcycles translate raw energy into exhilarating on-road experiences. Bolstered by the finest technological advancements, they boast cutting-edge features such as Ohlins suspension and Brembo brakes, reflecting Triumph's commitment to merging top-tier engineering with unbridled performance.
The versatility of a naked bike – Triumph Speed Triple 1200 RS
The Triumph Speed Triple 1200 RS embodies the essence of a versatile naked bike, seamlessly blending performance, agility, and comfort. As a prime example of this motorcycle category, it offers riders a multifaceted experience that's equally adept at tackling urban streets, winding roads, and even the occasional track day. With its raw design showcasing the powerplant and engineering, the Speed Triple 1200 RS not only promises an exhilarating ride but also serves as a canvas for personalization. This motorcycle stands as a testament to the inherent adaptability and all-encompassing capabilities that define the versatile nature of naked bikes.
Aggressive superbike-like ergonomics – Triumph Speed Triple 1200 RR
The Triumph Speed Triple 1200 RR exudes a distinctive and aggressive stance, drawing inspiration from superbike ergonomics. This design approach infuses the motorcycle with a sporty and dynamic feel, underscoring its high-performance capabilities. With its forward-leaning posture and precision-engineered details, the Speed Triple 1200 RR captures the essence of a superbike while retaining the unique attributes that make it a part of the renowned Speed Triple series.
A powerful daily rider – Triumph Speed Triple 1200 RS
The Triumph Speed Triple 1200 RS seamlessly combines potent performance with practical daily usability, making it a formidable and compelling option as a powerful daily rider. This motorcycle effortlessly balances its high-performance capabilities with rider comfort and versatility, allowing for confident commuting, spirited weekend rides, and even extended journeys. It's powered by a 1,160cc, liquid-cooled, fuel-injected, inline-three cylinder engine with a power output of 177 horsepower at 10,750 rpm, and torque rating of 125 Nm at 9,000 rpm.
Turn heads wherever you go – Triumph Speed Triple 1200 RR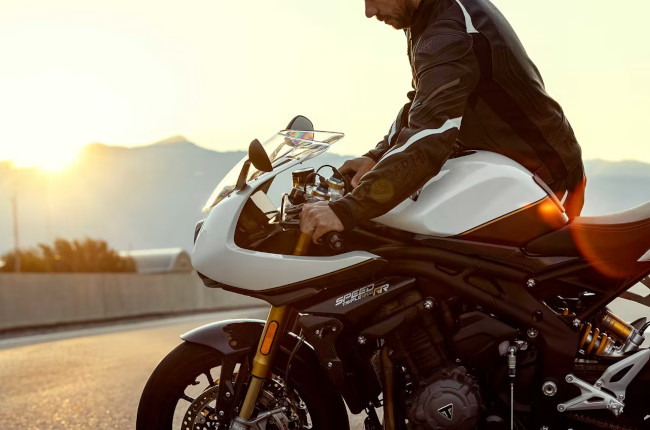 The Triumph Speed Triple 1200 RR commands attention wherever it ventures, captivating onlookers with its captivating presence and bold design. Designed to stand out in a crowd, this motorcycle's distinctive retro-inspired features and charismatic styling ensure that it turns heads and sparks conversations wherever it goes. The Speed Triple 1200 RR is not just a means of a high-performance machine, but a statement of individuality that leaves a lasting impression on both riders and fans alike.
---