Multi-perspective summit on fact-checking, digital literacy fosters collaborative efforts on fighting info disorder
Break the Fake Movement and the Media Civics Lab brought fact-checkers closer to civil society by gathering experts and different stakeholders with efforts in countering the information disorder at the First Philippine Fact-Checking Summit (PFCS) held at the Dr. George SK Ty Hall of the University of Santo Tomas on June 30, 2023.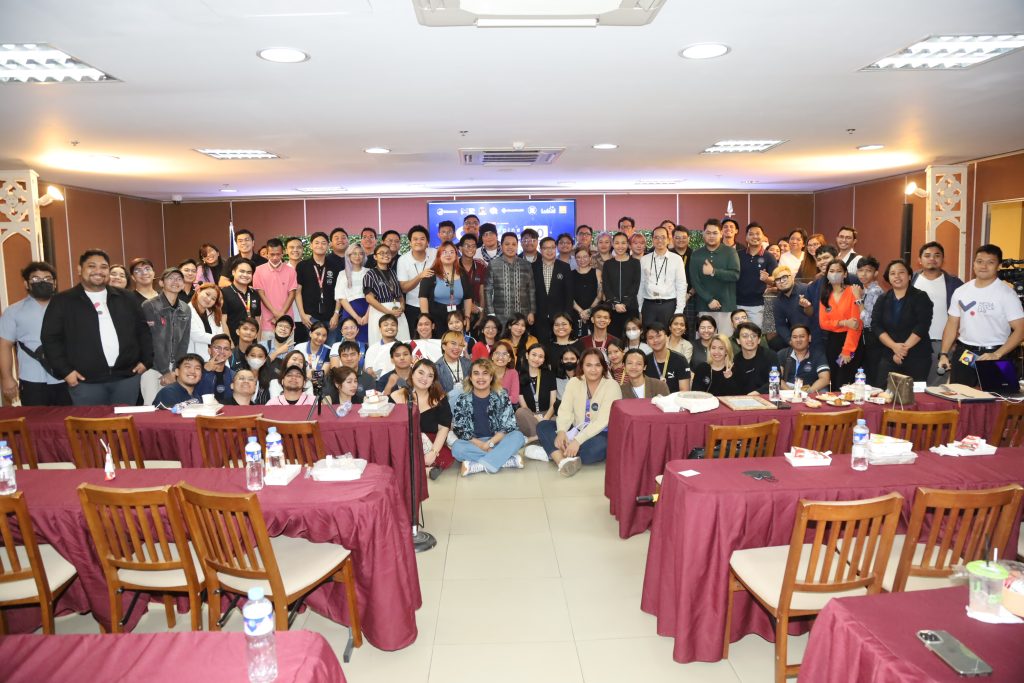 Break the Fake Movement Founder Gabriel Billones, Jr., said that misinformation and disinformation are not just issues that will be faced during election time, but a recurring one that will continue throughout a lifetime. He shared BTFM's efforts throughout the years in leveraging civic education,  policy making, strategic lobbying for media literacy in curricula, and other endeavors to improve digital literacy, including locally adapting the annual Global Fact Conference by the International Fact-Checking Network (IFCN) in the form of the PFCS.
Billones further emphasized that collaborative effort will be the key to consistent and widespread media literacy, sharing that "The ultimate solution to being able to deal with this kind of information disorder is for us to leverage each other's strengths through a unified and united front of sharing the same kind of mission."
UST Secretary-General Rev. Fr. Louie R. Coronel, O.P., EHL, in a message read by Executive Assistant Mr. Emmanuel Batulan, Ph.D., encouraged this notion, and wrote "By cultivating a community founded on positive participation, and diverse perspectives, we can create a resilient and informed society." He further added, "Let us embrace the power of knowledge, critical thinking, and responsible digital citizenship as we embark on this transformative path together."
Historian Prof. Xiao Chua discussed "The Role of the Academe in the Fight Against Discrimination." He shared insights from his over 20 years of experience in bringing history closer to the people.
"Misinformation has always been part of our lives even before Facebook," said Xiao Chua, adding that "The problem now is that this platform is being used by the powerful because of algorithms, and it has divided the people."
The noted historian highlighted the need for effective communication of historical facts, explaining in Filipino that "History is analysis, it is making a stand when you see all the documents. You make a stand, but you should be fair. We defend the memory of martial law victims, but you also have to not be too combative to the people that you talk to, so that the ones you converse with don't stop listening."
He later added that it is important to avoid needless antagonizing, which can be a common issue when people who come from the academe engage with people outside the academic bubble. "Instead," he suggested, "find a niche where you can be effective. When people know their past and people know about their country and their culture, that makes people love the Philippines more. Not through force, but through the knowledge of history."
Warning against complacency on the fact-checking movement, Xiao Chua also emphasized the necessity of going beyond fact-checking. "The number one lesson I want to leave here is that fact-checking is not enough. We've done great work with fact-checking as a pushback to disinformation, but aside from fact-checking, we also need to do narrative building," said the historian.
For the plenary talk, journalist and Tsek.PH Project Leader Assoc. Prof. Yvonne Chua discussed "The State of Fact Checking in the Philippines."
Challenges to Filipino fact-checking initiatives include the sustainability of fact-checking projects due to limited funding or manpower, and the continued threats and attacks. Yvonne Chua also emphasized the importance of the Code of Principles in fact-checking by the International Fact-Checking Network (IFCN) at Poynter, to which fact-checking initiatives must adhere, namely, nonpartisanship and fairness, transparency of sources, transparency of funding, transparency of methodology, and open and honest corrections policy.
Yvonne Chua also cautioned against methods that and gaps in practice that both "rob you of your neutrality and rub the public in the wrong way," such as adding commentary in the fact-checking materials, relying on non-triangulated secondary sources rather than primary sources, omitting disclosures of attribution to sources, omitting disclosures of methods, funding, organizational affiliations, or ownership, not applying the "truth sandwich" method, having no open corrections policy, or failing to credit other fact checkers.
Acknowledging that while the community of fact-checkers has grown in recent years and that fact-checking efforts are including more varied and specialized topics in local languages in addition to English, Assoc. Prof. Chua indicated her hopes to see the habit of principled fact-checking be more consistently widespread.
"We are part of an advocacy where fact-checking will not just be limited to professionals, to media, academe, or civil society that look at it as a full-time job. We would like to see fact-checking become a mindset, part of the lifestyle of every Filipino, so that they would not just verify the news often or sometimes, but all the time," said Yvonne Chua.
Among other discussants were Vice Mayor Shernan Gamol of Mansalay, Oriental Mindoro and National Council for Children's Television Executive Director Desideria M. Atienza for the topic "Government's Efforts to Improve Media and Information Literacy in the country"; Movement Against Disinformation Executive Director Atty. Christianne Salonga, IDEALS Inc Media and Communications Officer Jag San Mateo, National Union of People's Lawyers Vice President (NCR) Atty. Frank Lloyd Tiongson for "Multi-stakeholder Approaches to Countering Disinformation"
The panel discussion on "What's Next for Fact Checking in the Philippines?" included Probe Productions Managing Director Jennifer Aquino, Rappler Digital Strategy Head Gemma Mendoza, MindaNews Fact Checker Yas Ocampo, VERAFiles journalist Nica Hanopol,  PressOne.ph Associate Editor Rommel Lopez, with moderator Atty. Cris Yambot.          
VERAFiles journalist Nica Hanopol pointed out that the effort of fact-checking need not be limited to just political misinformation, because climate misinformation, public health misinformation, finance scams, and the like also have potential dangers to the community.
Rappler Digital Strategy Head Gemma Mendoza mentioned that while the number of fact-checkers are increasing, the challenges are also increasing. "The distribution space for news information is actually shrinking," said Mendoza.
The event also included a discussion with GMA Integrated News Social Media Team Assistant Manager Audrey Domasianon "Building Trust in Media and Eroding Digital Spaces" and the Media Civics Lab Fact-Checking Academy Journey panel discussion with Andrea Ortega Guanco, Manda Guiam, Max Limpag, and Kimmi del Prado, and a workshop on verification with the Southeast Asian Teaching Fellow of Google News Lab Ching Yee Choo.