UST GenSan's integrated innovation agritech vision revealed in 2023 Discurso de Apertura
During the August 4, 2023 Opening Ceremonies for Academic Year 2023-2024, the vision for the UST General Santos City branch as an Integrated Innovation Agritech campus was revealed by Academician Professor Maribel G. Nonato, PhD, the year's speaker for the traditional Discurso de Apertura.
The framework of CARE
In her lecture, Nonato used the word care and transformed the same into several acronyms that show what developing a 21st-century university needs. Citing factors such as management, human capital, and research, Nonato envisioned a modern university to be a "Comprehensive Academic and Research Enterprise" whose programs are rolled out by "Competent Advanced-degree and Research-oriented Educators."
Citing the most recent jobs report of the World Economic Forum, Nonato zeroed in on the effects of automation on clerical and secretarial roles that are seen to decline in demand, and the importance of education, agriculture, and digital commerce and trade, which conversely are seen "to have large-scale job growth."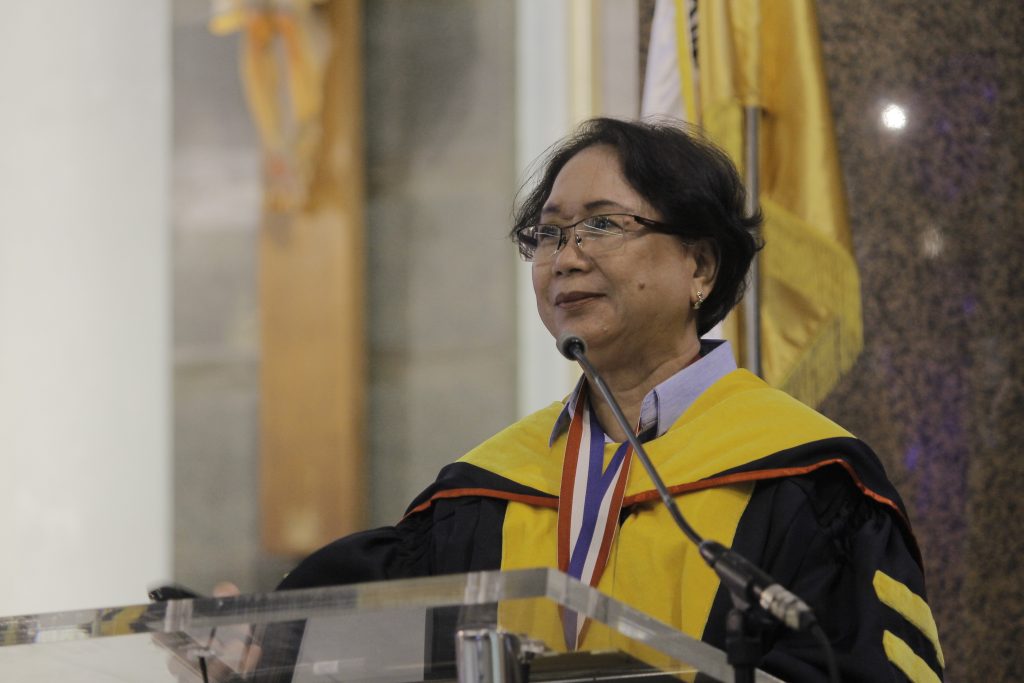 The incumbent Assistant to the Rector for General Santos stated that "CARE may also be adopted by the human capital of the academic institution. Presence of CARE in in the human, structural and relational capitals will surely lead to a sustainable and successful operations of the academic institution. Harmony of the concept of CARE will demonstrate significant convergence of knowledge and services leading to a resilience university."
Integrated innovation in Mindanao
Nonato unveiled the collective vision of UST General Santos City to be a campus that runs on an integrated innovation framework. This framework, according to the pioneer research of the Pandanus plant, "involves diversity where people of different disciplines with common aspiration (Intention) are brought together to cultivate ideas (Ideation) that will generate (Invention) innovative products, services, and processes (Synnovation) which will improve the quality of lives of the community (Transformation)."
The UST General Santos campus will soon open and will initially offer degree programs related to business, health, engineering, information technology, and the sciences. Located on an 80-hectare lot, the campus will soon have the inauguration of the expansive UST General Santos Main Building.
Nonato, UST's first-ever Vice-Rector for Research and Innovation, is a seasoned researcher and academic who pioneered phytochemistry research for the Pandanus species. A longtime Professor of Chemistry, she has received recognitions both here and abroad for her researches. After her retirement, she was appointed Assistant to the Rector for General Santos.