GS Natural Sciences cluster holds webinar on collaborative research, sustainability
UST Caritas, an academic event organized by the UST Graduate School on April 28, 2023, focused on the importance of collaborative research, innovation, technology, and sustainability.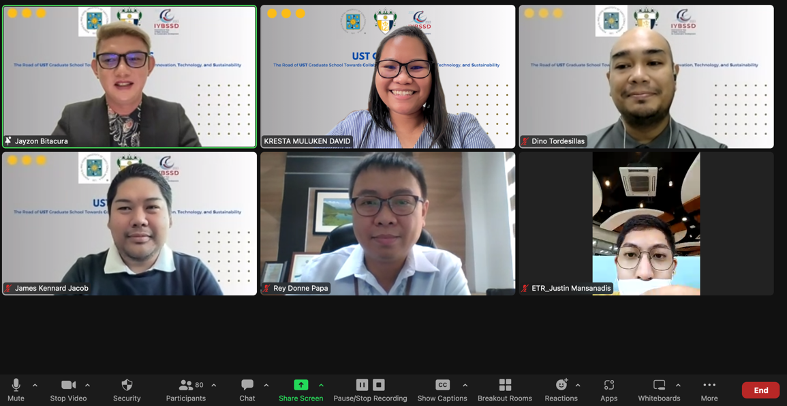 Prof. Rey Donne S. Papa, Ph.D., in his opening remarks, highlighted the significance of collaboration and sustainability in research. He expressed the commitment of the UST graduate school to prepare its students for these critical aspects.
Papa emphasized that the event served as a stepping stone for the students enrolled in the Graduate Seminar, providing them with valuable experience in presenting their research outputs and supporting their future goals. The seminar aimed to empower students and encourage them to contribute to the advancement of knowledge in their respective fields.
Following Papa's speech, Ms. Kresta Muluken David, academic staff from the University of the Philippines Institute of Chemistry, and a Ph.D. candidate in Chemistry of the UST Graduate School, delivered a talk titled "Reforming the Relationship between Science and History through Archeochemistry." David focused on the use of X-Ray Fluorescence Spectrometer, an instrument used for non-destructive chemical analyses. She discussed how understanding pre-colonial Filipino warcraft could contribute to the development of more durable and resilient materials for modern applications.
In his talk, Mr. James Kennard S. Jacob of the Isabela State University and a Ph.D. Candidate in Biology of the UST Graduate School, highlighted the use of Matrix-Assisted Laser Desorption/Ionization Time-of-Flight Mass Spectrometry (MALDI-TOF MS) in identifying mangrove fungal endophytes through a multi-omics approach. This innovative research utilized MALDI-TOF MS in combination with multi-omics techniques to accurately identify fungal species based on their protein profiles. This approach not only improved species identification accuracy but also enhanced our understanding of fungal diversity in mangrove ecosystems.
The event also featured a 30-minute discussion on sustainability, facilitated by Dr. Dino Tordesillas, the faculty-in-charge for the Graduate Seminar. During this session, the speakers acknowledged that while the Philippines faces challenges in catching up with larger countries in terms of research, efforts are being made to transform the country into a research-oriented nation.
The Graduate Seminar had participants from different sectors, including UST Senior High School, UP Diliman Institute of Chemistry, and participants from State Universities and Colleges (SUCs).
Prof. Cecilia B. Moran, Dr. rer. nat., the Executive Assistant for Research Operations and Management, delivered the closing remarks where she highlighted the importance of innovation, technology, and sustainability as crucial topics for discussion and paving the way for further advancements in research.
Overall, UST Caritas served as a platform to promote collaborative research, innovation, technology, and sustainability, emphasizing the importance of these factors in the academic and scientific community.