Confluence of research approaches emphasized in CTHM research colloquium –
The University of Santo Tomas College of Tourism and Hospitality Management (UST-CTHM), in collaboration with the M.I.C.E Classes of 3HCE1–Zarkana Productions and 3HCE3—Marahuyo Productions, hosted the 12th Saint Hyacinth Students' Research Colloquium and Lecture, which featured two international hotel and tourism professors. The experts emphasized that flexible research methods can remedy post-pandemic setbacks in the tourism industry, held on April 24, 2023 as part of the 5-day Philippine International Tourism and Hospitality Research Conference 2023 (PITH-ReCon 2023).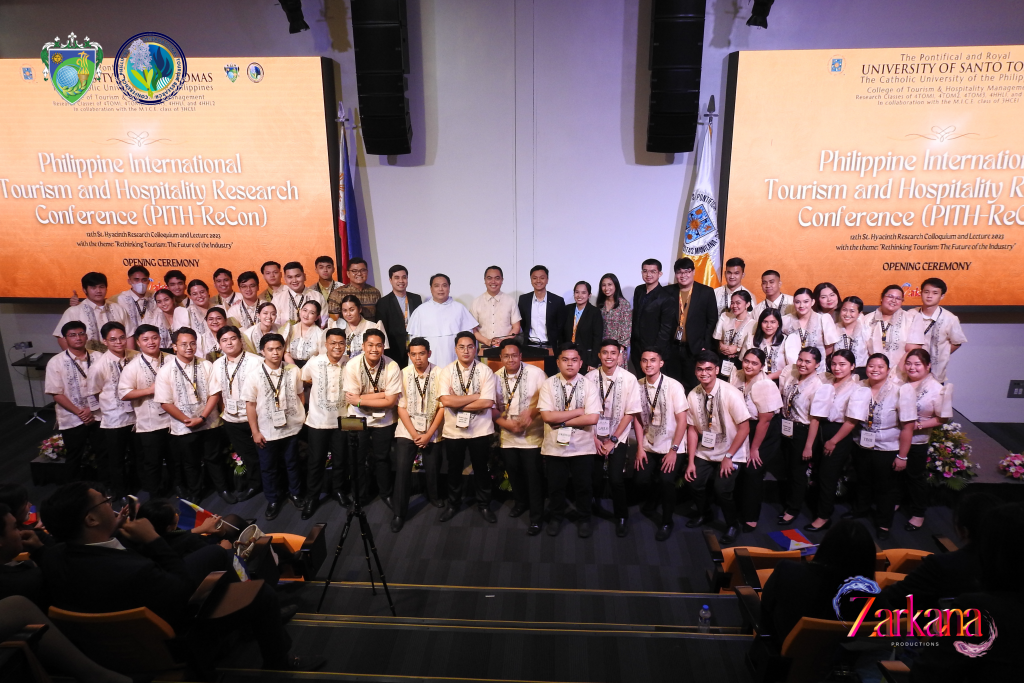 In her talk entitled "Redefining Hospitality Business Management in the Next Norm," Prof. Cathy Hsu from the Hong Kong Polytechnic University's School of Hotel and Tourism Management said that a "comprehensive and rigorous" qualitative approach in topics such as post-pandemic consumer behavior validates research findings.
Additionally, qualitative research is uncommon in the tourism industry with a decreased credibility unlike in anthropological and sociological areas, as highlighted by Prof. Jerome Agrusa from the University of Hawaii, in his talk entitled "Redefining Tourism on the Next Norm." Agrusa urged flexibility among research approaches that shared four constructs such as truth value, applicability, consistency, and neutrality to remedy over-tourism and promote regenerative tourism, a trend of sharing one goal. Flexible research approaches can ensure tourism sustainability and viability from economic downturns such as exploitation of destinations and workers, he added.
Citing the eye-tracking and facial expression analysis, Hsu also highlighted the credibility of quantitative research due to its objective approach to determine the psychophysiological methods over qualitative approaches such as interviews and surveys. She also warned against a potential inaccuracy of qualitative methods, as it is only limited to subjective emotions.
The lectures were part of the weeklong Philippine International Tourism and Hospitality Research Conference 2023 (PITH-ReCon 2023).