RCCAH, GS, AB hold lecture on academic integrity amidst developments in AI –
The UST Graduate School and the Faculty of Arts and Letters Community Development Offices, in collaboration with the Research Center for Culture, Arts and the Humanities (RCCAH), organized a seminar on sustaining academic integrity amidst the development of artificial intelligence. This academic interchange was conducted at the UST Central Laboratory Auditorium on March 1, 2023.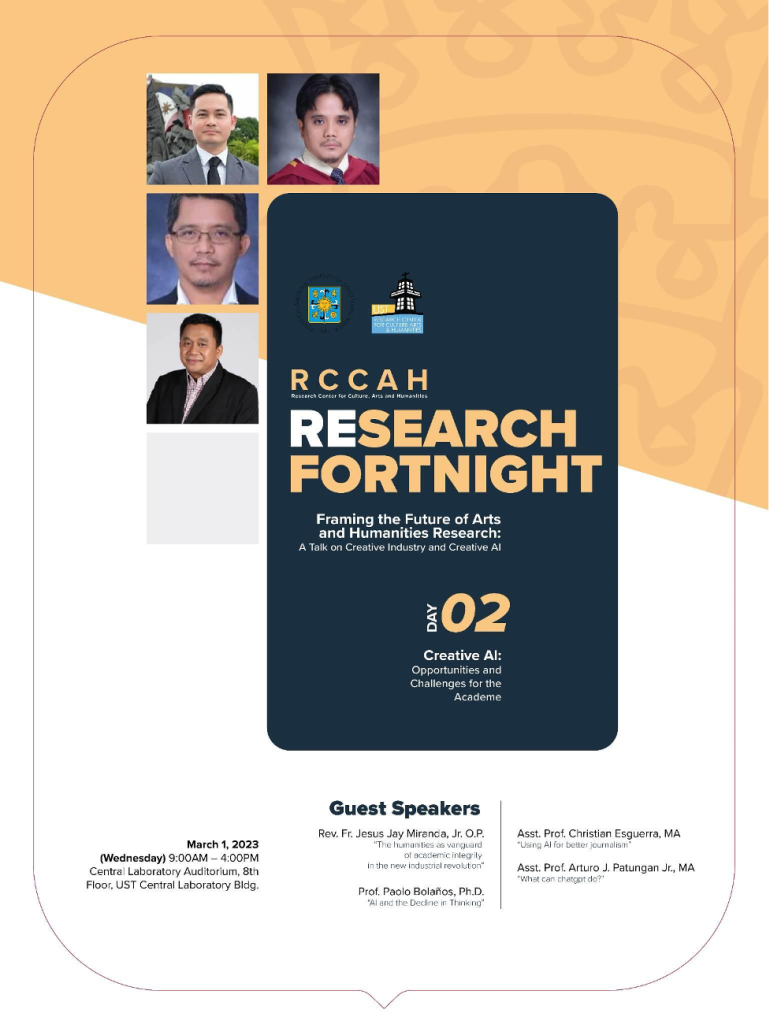 Titled "Creative AI: Opportunities and Challenges for the Academe,"  this endeavor also forms part of the two-day activity of RCCAH's "Research Fortnight: Framing the Future of Arts and Humanities Research."
With the guidance of RCCAH Director Prof. Maria Alexandra I. Chua, Ph.D., the event was jointly conceptualized and organized by Dr. Robert Montaña and  Ms. Ederliza V. Magpantay of the Graduate School and Faculty of Arts and Letters Community Development Offices, respectively.
Serving as speaker during the lecture was Rev. Fr. Jesus Miranda, Jr., O.P. with his talk titled: "The humanities as vanguard of academic integrity in the new industrial revolution." 
Dr. Paolo Bolaños then shared his insights on "AI and the decline in thinking." Applying the issue to his expertise, Mr. Christian Esguerra discussed his opinion as regards "Using AI for better journalism" while Mr. Arturo Patungan, Jr. offered his technical knowledge on "What can chatGPT do?".  With the current opportunities and threats for the proper use or misuse of AI, especially in its novel capacity for creativity in manipulating vast amounts of data, the lecture has clarified a lot of critical issues and is in line with the United Nations Sustainable Development Goal towards Quality Education.