Navarro of CFAD lectures on sustainable Filipino design strategies –
UST College of Fine Arts and Design (CFAD) academic staff Mr. Louie T. Navarro, Ph.D., served as one of the speakers in the 24th Philippine World Building and Construction Exposition (WORLDBEX) seminars held from March 29 to 31, 2023. WORLDBEX gathered the finest local and international companies catering to various construction and design needs.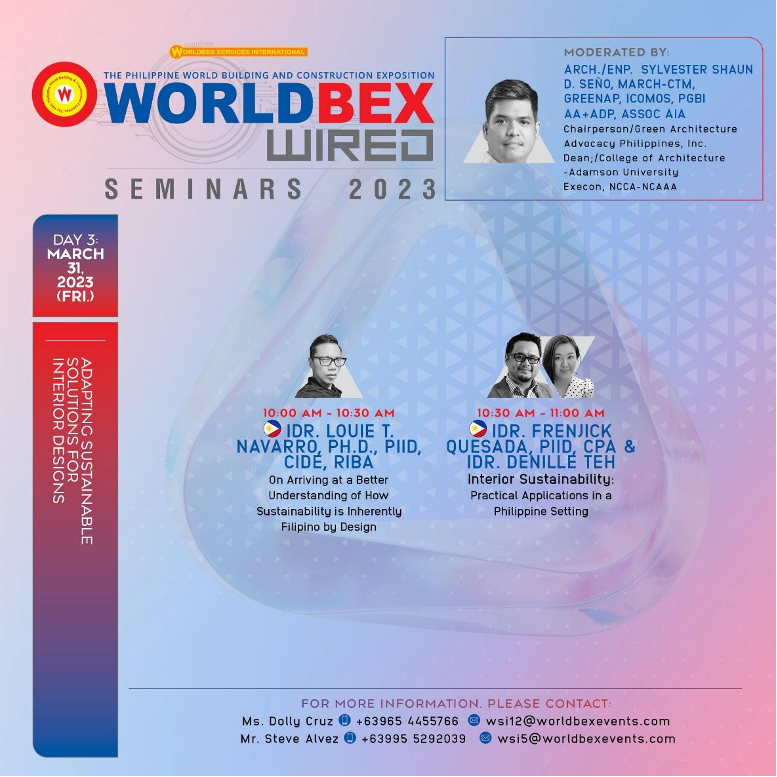 Navarro, who is the co-founder and creative director of his design firm "louta et al.", discussed "On Arriving at a Better Understanding of How Sustainability is Inherently Filipino by Design."
He engaged participants to think about how design, as we know it today, can pivot in these most crucial of times as humanity is faced with its biggest hurdle yet: the climate crisis. By way of louta et al.'s completed, ongoing, and unrealized projects, the sustainable design strategies deployed by the team were revealed to be Filipino by design. Ultimately, Navarro's talk was a call for action directed at the building industry as it urges industry practitioners to rethink current design approaches and methodologies to fulfill our needs today without compromising those of future generations.