Industry professionals promote strengthening FTAs, int'l partnerships for sustainable business operations –
With the recent approval of the Senate resolution concurring the ratification of the Regional Comprehensive Economic Partnership (RCEP) on February 21, 2023, the virtual academic talk titled, "Moving Beyond National Borders, Growing with International Partners" was organized by the International Business & Global Strategy (IBGS) students of the Master in Business Administration (MBA) cluster of the UST Graduate School on April 15, 2023.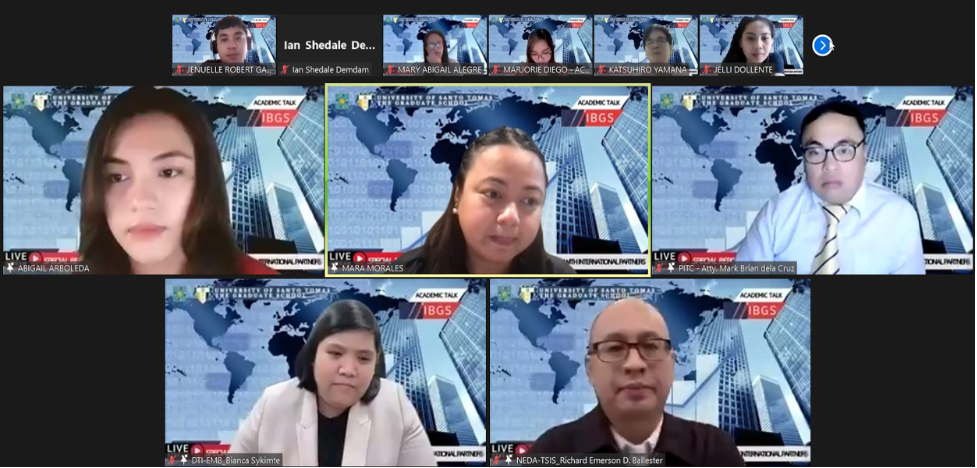 The webinar was formally opened by the UST Office for Graduate Research Director Prof. Grecebio Jonathan D. Alejandro, Dr.rer.nat., where he quoted Finance Secretary Benjamin Diokno on the promotion of a more open, transparent, and predictable trade and investment environment through the RCEP. This comprehensive partnership was signed last November 2020 by ten ASEAN member states, including the Philippines, the ASEAN+3 countries (China, Japan, and South Korea), and ASEAN+6 members (Australia and New Zealand), and is considered to be the largest regional free trade agreement (FTA) in the world, accounting for 30 percent of the world's population, 29 percent of gross domestic product (GDP), 29 percent of trade, and 33 percent of global inward investments in 2020.
While this largest regional FTA in the world promotes mechanisms and strategies for addressing the emerging trade issues affecting small and medium enterprises (SMEs), e-commerce, competition, intellectual property, and government procurement that were not covered in existing FTAs, the recent trends, developments, and challenges of Philippine traders and SMEs would forecast the future of our operational competitiveness and sustainability against the rest of the world.
Through the enthusiastic presence of well-versed and esteemed resource speakers from the Department of Trade & Industry (DTI), Ms. Bianca Pearl R. Sykimte; the Philippine International Trading Corporation (PITC), Atty. Mark Brian A. dela Cruz; and the National Economic and Development Authority (NEDA), Mr. Richard Emerson D. Ballester, over a hundred fifty virtual participants from the University of Santo Tomas (UST), Polytechnic University of the Philippines (PUP), University of Asia and the Pacific (UA&P), Centro Escolar University (CEU), among other universities witnessed the virtual event. Participants learned about the competitiveness of the Philippine local industry players, particularly traders and SMEs, and witnessed the economic roadmap of the current government administration, which included the importance of strengthening and expanding regional and global networks for sustainable international business operations.
Following all of the presentations, the virtual participants had the opportunity to raise relevant and pressing matters for the esteemed resource speakers through an open forum. Also in attendance to deliver the closing remarks is the course facilitator and the Program Lead of the MBA cluster, Dr. Elizabeth O. Recio.