Home Recording Academy: Tips for Picking Monitors
Here on the Sage Audio mastering blog, we've provided a few tips for getting the best studio monitors for your studio , and even offered a tutorial on how to set up the monitors in your home studio for the best listening experience. As you might guess, we place quite a bit of importance on multi monitors, as these are some of the most important tools in your studio.
Since the world of studio monitors is constantly evolving, we like to stay up-to-date on what's happening in monitor technology. Therefore, this article will take a look at three new monitors that have recently been released.
Because every studio has a different budget and different equipment goals, we'll try to run the gamut when it comes to quality and price with these speakers, and the three models we'll look at today do exactly that.
Yahama HS Series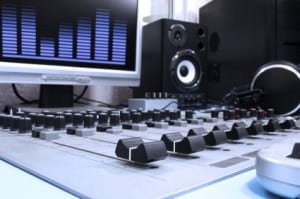 Yamaha has just introduced the second generation of its HS series active monitors — which actually includes three different models. We even featured a member of the first generation of the series — the HS50m — in our best monitors features. The series starts at about $200 per speaker, making it a great choice for many home studios.
That's not to say Yamaha skips on quality. The distinctive white woofer has been a staple of Yamaha monitors in studios big and small for decades, and provides a great sound at a relatively low price.
We recommend going with at least a 5-inch woofer to generate accurate bass response, and even the smallest of the new models — the HS5 — meets this requirement. The main difference moving up the line are larger woofers: the HS7 has a 6.5-inch cone, and the HS8 has an eight-inch cone. All three have a 1-inch tweeter.
Genelec M Series
Moving up to the mid-range price level for home studios, we have the Genelec M Series featuring the M030 and the M040 active speakers. Again, speaker size is the primary difference between the two, with the M030 using a 5-inch woofer and a .75-inch tweeter, and the M040 employing a 6.5-inch woofer with a 1-inch tweeter.
One thing that sets these speakers apart is they are part of Genelec's overall philosophy to create environmentally friendly speakers that don't skimp on sound quality. The energy efficient monitors are built with what the company calls a Natural Composite Enclosure, which is made with wood fiber and recyclable material.
These speakers will be available in June, and the MSRP is $695 per speaker for the M030 and $995 for the M040.
Neumann KH310 A
On the high end of the monitor price scale for these three models is the Neumann KH310 A, which is a three-way active tri-amplified monitor. This means you get an extremely versatile speaker that the company says can be used just as effectively as a near-field monitor (usually the only monitor in a home recording space), a mastering monitor or as a part of a surround-sound system.
Neumann is best known for its microphones, but this new product is the latest in a growing lineup of quality studio monitors. However, you will pay for the versatility provided by the monitors, with an MSRP set at $2,249.95 per speaker.