AUNQA gives 2nd stamp of approval for accountancy, biology, chemistry, psychology programs –
The ASEAN University Network Quality Assurance granted a fresh five-year certification to the University's bachelor's programs in Accountancy (UST-Alfredo M. Velayo College of Accoutancy), Biology, Chemistry, and Psychology (College of Science), according to Academic Programs Quality Assurance Office Director Marife V. Narcida MS. The results, released on June 8, 2023, come after the three-day programme assessment conducted by AUN-QA experts from May 2-4, 2023.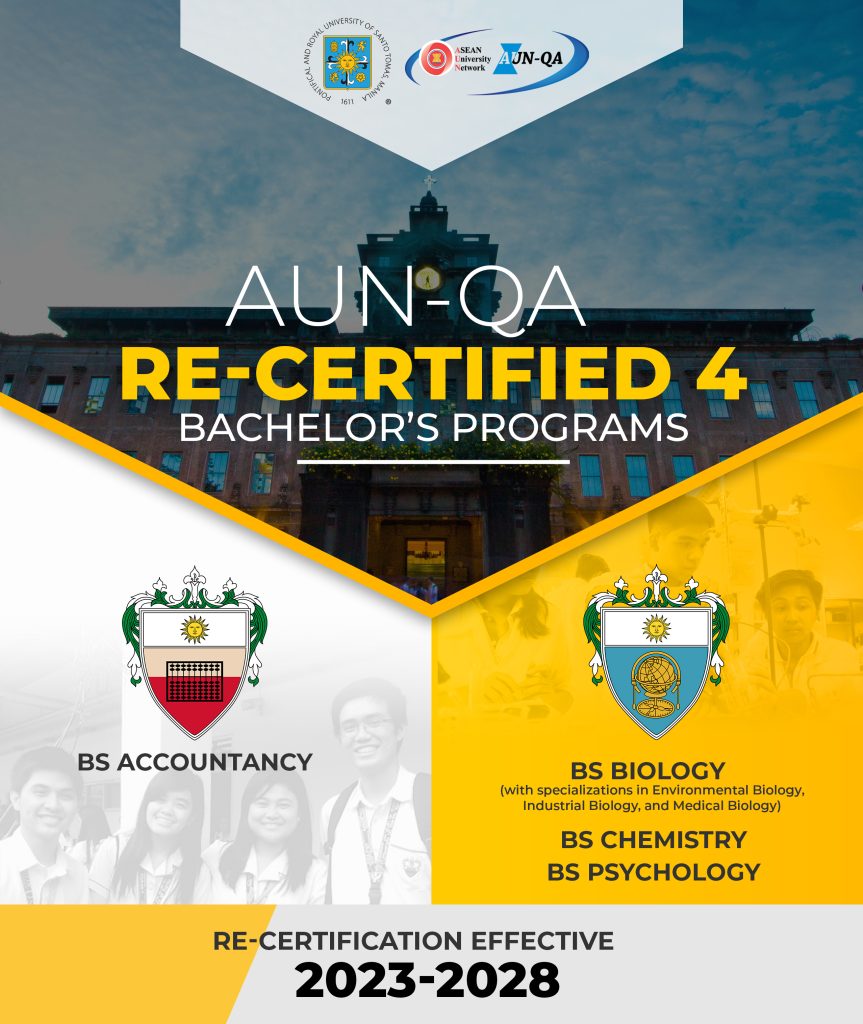 According to UST-Alfredo M. Velayo College of Accountancy Dean Patricia M. Empleo, PhD, the College's "objective is to continue enhancing the quality of our academic programs, not necessarily for external accreditation or assessment, but more so for our stakeholders (learners and industry partners especially) who rely on us for the provision of the much-needed accounting professionals. We integrate the AUNQA framework and see it as an effective tool for continuous quality improvement."
Meanwhile, College of Science Dean Rey Donne S. Papa, PhD looked back at the five-year journey to re-certification that the College undertook: "The good news we just received from the AUN validates that the improvements we have instituted had addressed the majority, if not all, of the concerns and points for improvement that they had provided us after their first visit in 2017. This includes the revision of our curricula for the Biology, Chemistry, and Psychology programs and the increased research productivity of the departments concerned, as well as the transfer of our laboratories to the Central Laboratory Building. We will continue to strive for excellence in all aspects of our operations as we start planning for the AUN assessment of other programs such as Microbiology, Applied Mathematics and Applied Physics in the near future. I am extremely thankful for our hardworking and dynamic team of academic and support staff and students who have worked hard to ensure that we meet the standards set by the AUN."
The three-day assessment led by AUN-QA Expert Assoc. Prof. Dr. Tan Kay Chuan coincided with an assessors' training with attendees from five Southeast Asian countries. The re-certification maintains UST's 18 bachelor's programs on top of the Institutional Certification UST enjoys from AUN-QA.