Apple iTunes Radio vs. Pandora (May the Least Ad-Supported Win)
Apple finally unveiled its new internet radio service under the name iTunes Radio.
The service has been in the works for some time, and the company announced it at the recent World Wide Developers Conference. The service won't be available until this fall, but we learned quite a bit from the announcement.
Is iTunes Radio Just a Pandora Clone?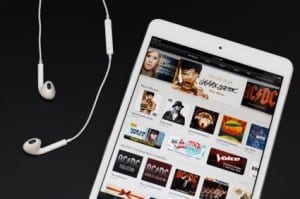 Apple calls the service "radio re-imagined," but it seems to be very much in line with the current big player in internet radio, Pandora. Users have the option to choose from more than 200 genre-focused stations, or they can choose an artist, song or genre and the service will then cu
rate a station around those preferences. When listening to songs, there are options to "Play More Like This" or "Never Play This Song."
Also like Pandora, iTunes Radio will be a free, ad-supported service with no subscription model. However, anyone paying $24.99 per year for iTunes Match will be able to listen with no ads.
How iTunes Radio Distinguishes Itself
However, the service is no mere clone of Pandora, and has a list of interesting features on paper that will be interesting to explore in practice. The first is that the service will personalize itself to each user automatically depending on listening history.
The service will be available for use across all products, including iPhone, iPod touch, iPad, Mac, PC or Apple TV. Those using Apple mobile products will be able to control the service through Siri.
The Biggest Advantage is Apple's Built-In Clout
But it's not so much the features that have the opportunity to make iTunes Radio a major player in the market, it's the muscle of Apple.
Here's the largest difference between Apple and Pandora: Apple has secured deals with all the major labels, while Pandora operates under a compulsory license. The latter requires owners (like Pandora) to be "non-interactive webcasters," which sets up limits on how the service can work. Additionally, these licenses are being contested by many parties including the major labels and Congress, which could create a very unstable future for artist earnings.
Another advantage is the ability for Apple to offer one-click sales of songs users listen to on the service. Though Pandora also has this option (and in fact Pandora says it is "the single largest driver of sales to iTunes"), Apple has effectively cut out the middleman. Since many using iTunes Radio will already have a credit card on file with iTunes, purchasing songs will be particularly seamless.
What This Means for Independent Artists
What Apple didn't reveal was how (or if) the service can be leveraged by independent artists. Because of the way Pandora is set up (and operating under the compulsory license), artists can go directly to the company to have their music included in the service (though this is easier said than done).
Though nearly anyone can add their music to iTunes if they go through a digital distribution service (such as CDBaby), it's hard to imagine Apple will allow every (or even many) artists with songs in iTunes to be played on Radio. The company hasn't said how they will choose artists, so we'll likely have to wait until the service is rolled out before we know for sure.
Regardless of any similarities or differences, Apple will still be playing catch up, as Pandora currently has 200 million users and 70 million active listeners on the site. That equates to a 7.3 percent of total radio listening in the U.S., which is a huge market share and by far the largest hurdle to Apple iTunes Radio.