IQ Reverb, Vintage Vibe, Apogee
If you follow the Sage Audio mastering blog, you know we like to keep up-to-date on the new products available for studios. Particularly, we look at interesting hardware and software that can be a great addition to home recording studios without breaking the bank. Today, we have an interesting reverb, as well as an entire suite of vintage sounds that can add a ton of versatility to your recording options. Let's get right to it.
HOFA Plugins IQ Reverb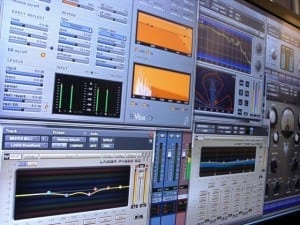 There are tons of convolution reverbs out there, and it's impossible to say that one is better than others, as your ideal reverb depends on the types of sounds you want to achieve. IQ Reverb is a bit unique in that it combines convolution reverb with a classic effects processor. This is designed to give you minute control over all your reverb sounds.
The reverb comes with a 3D display that HOFA says you can use to "change length and envelope of the impulse responses quickly and easily and even treat various frequency ranges of the reverb separately." The plugin also comes with a "specially compiled library with elaborately convoluted hardware units, real spaces and novel layered reverb combinations… already onboard."
The software is available for PC and MACs for both 32- and 64-bit DAW. The manufacturer says the plugins have been tested and approved for most major recording software, including Cubase, Apple Logic, Ableton Live, Presonus Studio One, Cockos Reaper and Avid Pro Tools.
Big Fish Audio Vintage Vibe
Vintage Vibe is a collection of sampled instruments designed to provide more versatility to the studio instruments you have — which is something we're always looking for in a recording setup. As you'd expect from the name, this set of plugins focuses on vintage instruments, but not only the ones you'd expect.
"The list of instruments ranges from rare, collectible, and even one-of-a-kind pieces to cheap knock-offs and banged-up stuff found in junkyards," says the company. It's not often that virtual instruments look to replicate low-end or "banged-up" instruments, so we like the novel approach here.
Of course, you get some of the classics, too: a 1962 Telecaster, a Fender Rhodes, a 1960s Gretsch 3-ply Wood Jazz drum kit, among many others. In fact, it's the drum sounds that have the most options available, from kits to snare to cymbals.
If you like to explore vintage sounds, particularly those that are a bit off the beaten path, Vintage Vibe may be well worth checking out.
Apogee Now Compatible with Logic Pro X
Ok, so this one's not nearly as exciting — unless you've been waiting to upgrade your old Logic software until your hardware interface is compatible. Apogee has announced that most of their products are now compatible with the newest version of Logic Pro, which was released last month. Here's a list of those that have been tested with the new software, straight from Apogee:
JAM
MiC
ONE for Mac
ONE for iPad & Mac Duet
Duet 2
Duet for iPad & Mac
Quartet for iPad & Mac
Ensemble
Symphony I/O (USB, Symphony, and Pro Tools HD modes)
Symphony 64 PCIe
Symphony 64 | ThunderBridge
X-Symphony equipped X-Series and Rosetta Series Converters
X-HD equipped X-Series and Rosetta Series Converters (Firmware v. XX or greater).