Ford Offers Rhapsody Integration with its SYNC AppLink System
Ford has been making some waves at this year's Consumer Electronic Show (CES), and though this is the first time I've written about a car company in the Sage's online mastering blog, this is related to many of the topics covered here previously. There are actually two pieces of news from the car company that are related, and I'll get right to it.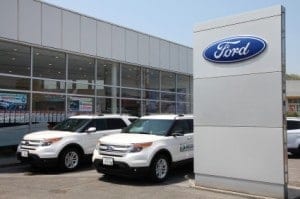 1. Ford is adding Rhapsody Streaming Service to 1 million Cars
More specifically, Ford is partnered with Rhapsody to make the streaming music service work with its existing SYNC AppLink system, which is already on 1 million cars, including 2013 models of the Mustang, Fiesta, Expedition, F-150 and Focus.
The integration means that Rhapsody will run on the driver's smartphone, and will be able to be controlled by voice commands as well as through buttons on the steering wheel.
"Everybody loves to listen to music in the car, so making it as convenient as possible for people to enjoy Rhapsody while driving has been a high priority for us," said Rhapsody president Jon Irwin in a statement. "We are pleased to work with Ford on this innovative integration. Now our customers have their favorite music within arm's reach in their cars."
GM and Chrysler also announced upgrades to their own integrated systems involving better music integration. I'm honestly a little surprised that the car companies are only now focusing on music app integration in new models, but adding hands free integration is a great step by Ford to stop people from messing with their phones while driving, yet still granting access to a huge music library.
2. Ford Launched Developers Program
This is related to the Rhapsody, in that the developers program involves the AppLink system. However, the developers program will allow anyone to develop apps for the system, and then those apps will be approved by Ford.
"The Ford Developer Program marks a dramatic shift in how we will innovate new features and add value to our vehicles throughout the ownership period," said Hau Thai-Tang, vice president of Engineering at Ford Global Project Development in a statement. "Opening the car to developers gives consumers a direct voice and hand in the creation of apps that can help our products remain relevant, up to date and valuable to our customers."
I think this is a great move by Ford, because allowing external developers will almost certainly begin a substantial expansion of the types of apps that are available for the system. Of course, all of this is dependent on how liberal Ford decides to be when handing out approvals. They have understandably used Angry Birds as an example of the type of apps they won't allow, which I can get behind because I would not want to get behind a driver playing a game on their dashboard screen in traffic. Apps that find better ways for me to access music in my car, though – I'm for it.
All of this seems like great strides forward for Ford and the other car companies, and I welcome this kind of innovative. And though it may not involve the online mastering service specifically, it is an indirect factor as it continues to play a part in the evolution of the current music industry.