Changes at 500px: Enhance Your Workflow and Showcase Your Photography
Attention, photographers! Get ready because managing your photos just got a whole lot easier. We've released a series of updates designed to streamline your workflow, boost efficiency, and—wait for it—actually save you time. That means more opportunities to do what you're truly passionate about, capturing stunning photos!
Your new centralized hub to view, manage, edit, and organize everything from your Profile to Galleries to Licensing to Liked Photos. Here's what's new:
Consolidated Nav Bar
We believe in simplicity, so we've combined the Photo Manager, Licensing Manager, Galleries, Liked photos, Settings, Stats, and Earnings into one convenient drop-down menu called My Photos. Now you can access all of these features right from the side dashboard on My Photos, saving you time and hassle.
Photo Manager My Photos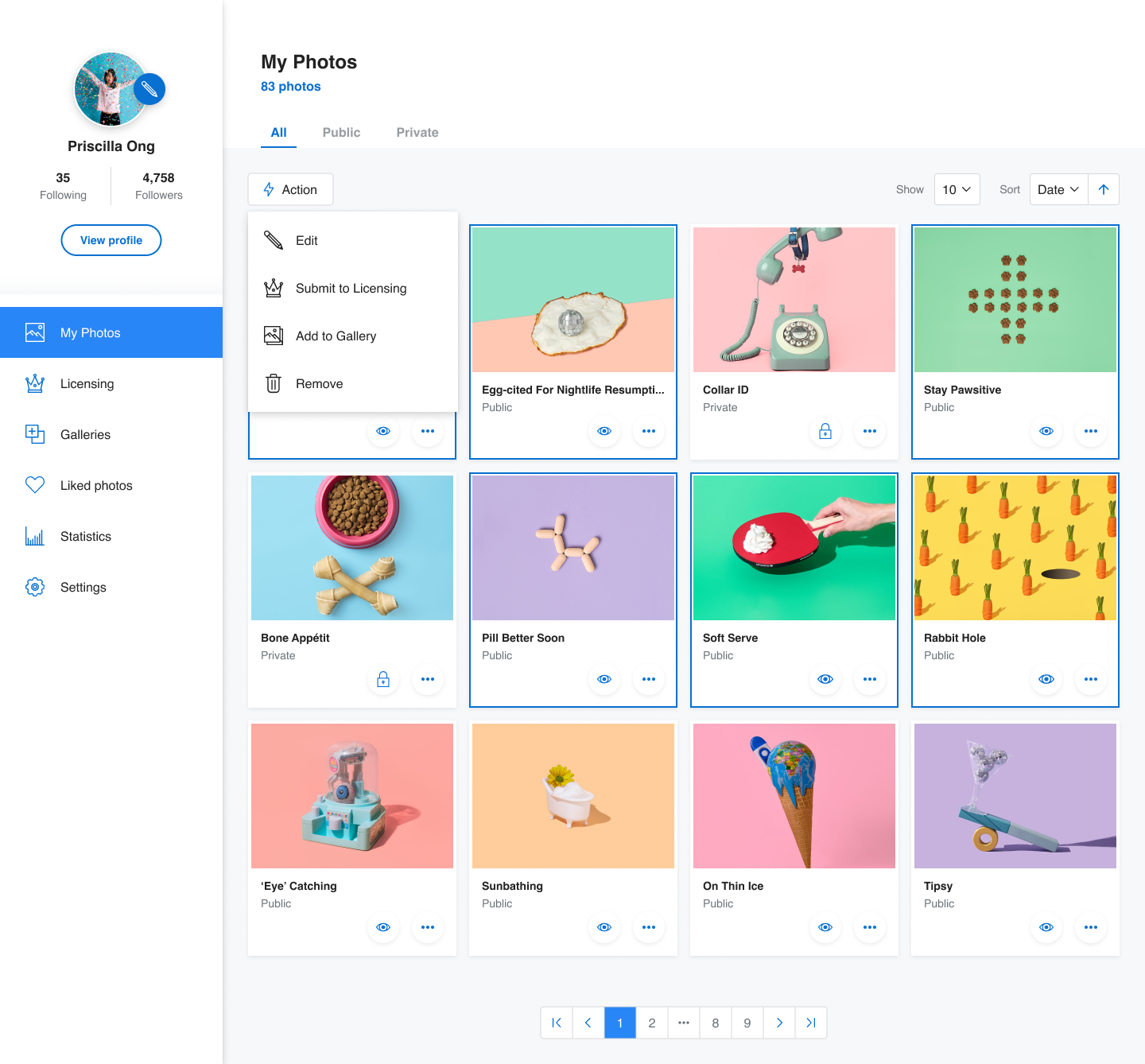 Your My Photos section is the key to shaping your public Profile exactly the way you want it. Now, all the magic happens behind the scenes in My Photos, and any changes you make here will be instantly reflected on your Profile. Here's what we did to make that happen:
Added more functions to help you organize, find and edit your photos
Added tabs at the top to categorize your photos into "All," "Public," and "Private
Introduced pagination, allowing you to navigate through all your photos seamlessly and choose how many you want to display on your My Photos page
Incorporated a handy sort button, enabling you to filter your photos by date, likes, views, and comments
Introduced a Licensing suggest tab, where you can manage the photos that 500px suggests for Licensing
Added an Action menu, providing quick access to upload, Licensing, editing functions, and more
Suggest for Licensing
Interested in turning your photos into a source of passive income? Look no further! Your "Suggest for Licensing" photos now have their own tab on the My Photos page. We wanted to make it easier for you to find and access the content that could be making you $$$.
Edit photo details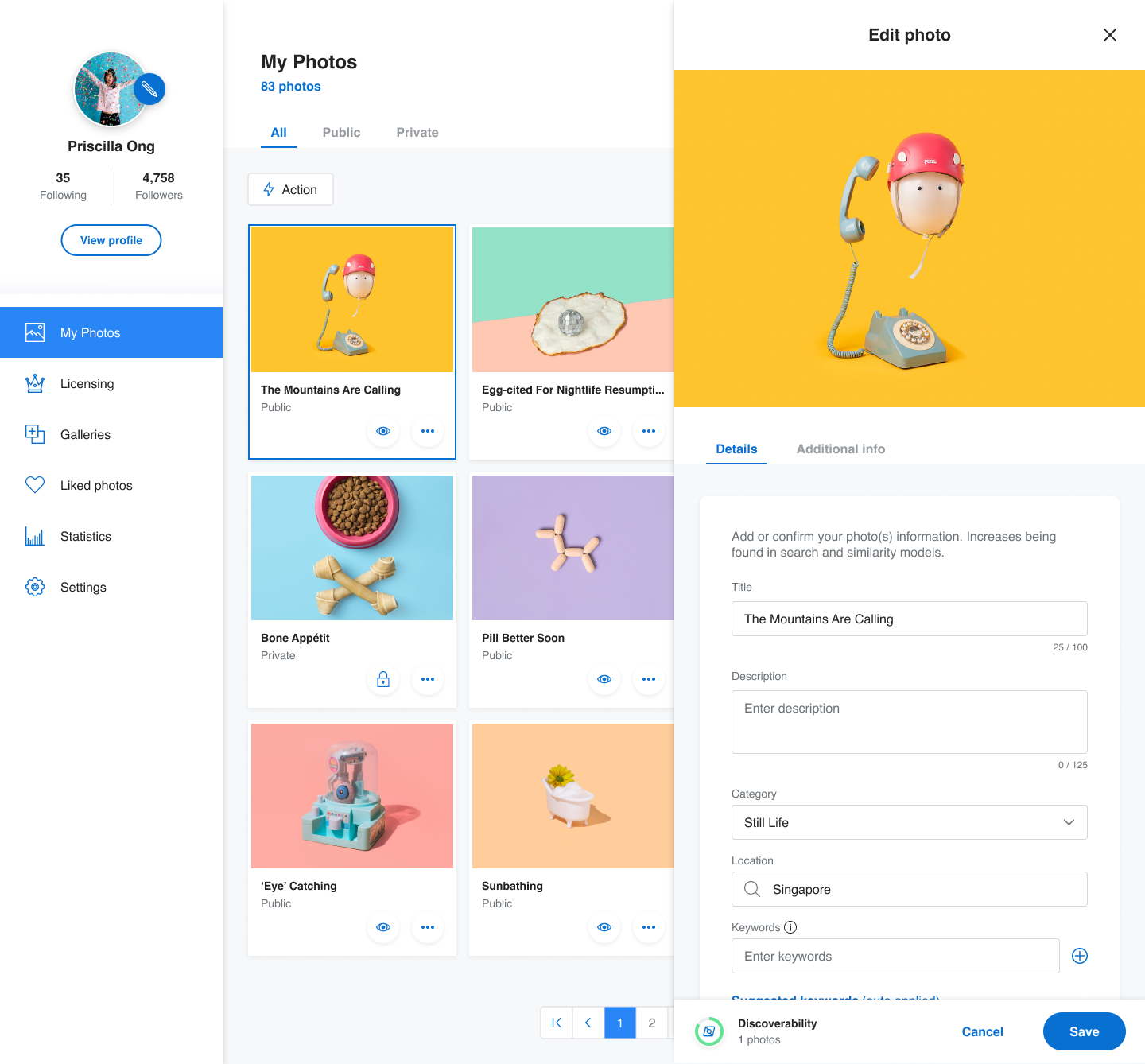 Need to tweak your photo's title, description, or add keywords? With the new edit photos functionality, you can do all that and more! We've made editing your photo details more intuitive and organized, empowering you to make quick adjustments with ease.
Galleries
Your Galleries have found a new home! You can now effortlessly manage, organize, edit, and create stunning Galleries, all from one convenient hub. Here's what we've done:
Moved Galleries into My Photos for a seamless experience
Freshened up the look and feel for a more enjoyable experience
Added an action button, ensuring quick access to the tools you need
Implemented pagination, making it easier for you to find and organize your Galleries
Introduced a sort button, allowing you to view your Galleries based on their creation date
And remember, once you're happy with your Gallery, don't hesitate to publish it to the home feed and show off your curation skills to the 500px community!
We wanted to equip you with the tools you need to maximize your sales potential. Here's what's new:
Licensing Manager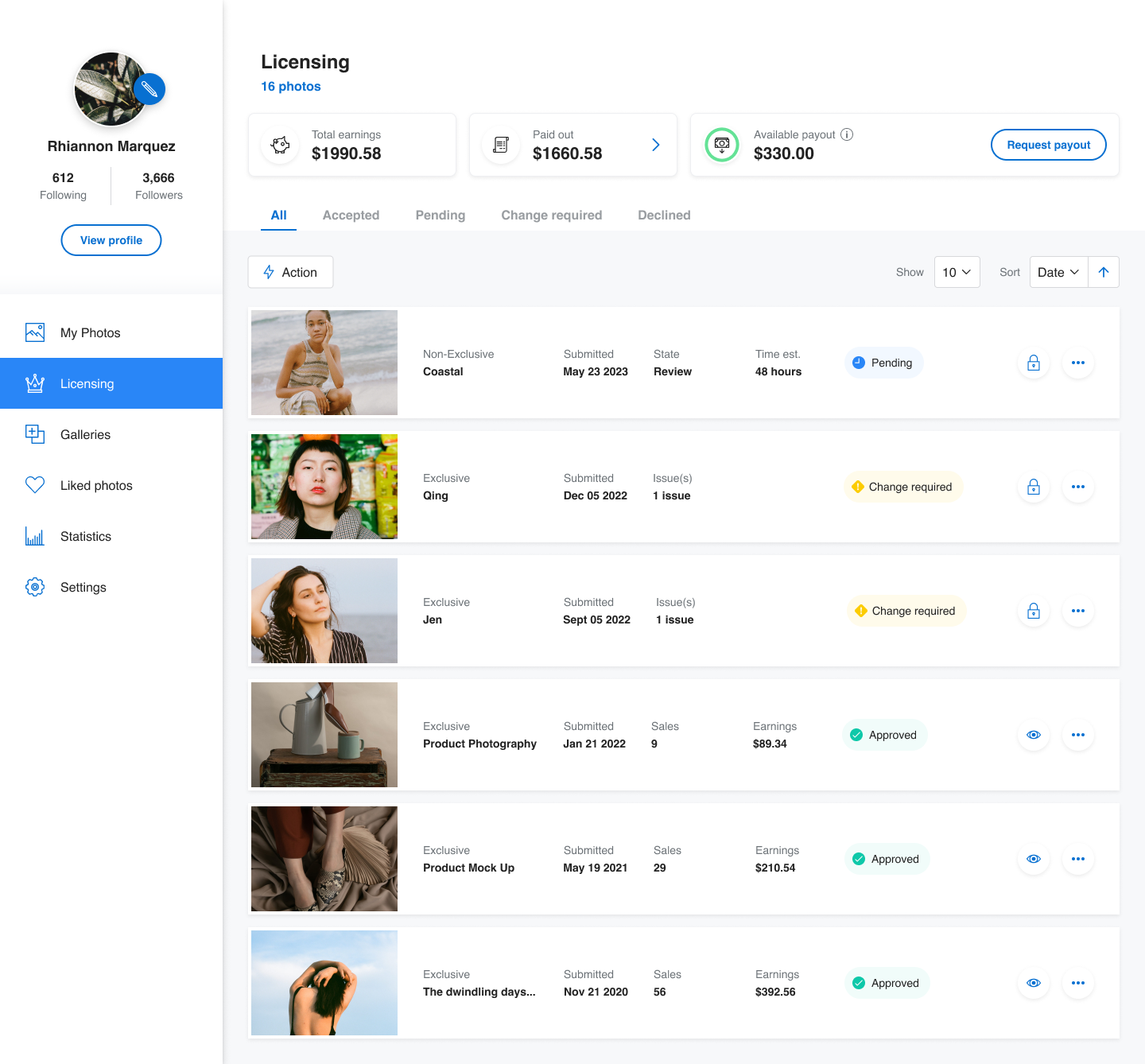 Say hello to the simplified list view! Now, you can view all the key details of your submitted photos without having to click on each image. Get a comprehensive overview, including status and time estimates, at a single glance. We've also added filter and sort functions, making it a breeze to navigate through your submitted photos' statuses—all on the same screen. Here's a breakdown of the changes:
Your submitted Licensing photos now appear in a convenient list view, providing all the relevant info you need at a glance
With the added Action button you can swiftly access any necessary tools
Added pagination to make it easier to find the photos you need
We've enhanced the Sort functionality, enabling you to view your photos based on date, sold, earnings, and exclusivity
'Changes Required' photos will now expire
You now have one year to make any necessary changes to photos that come back with a 'Changes Required' status. We'll send you friendly reminders throughout the year to ensure you don't miss the expiration date.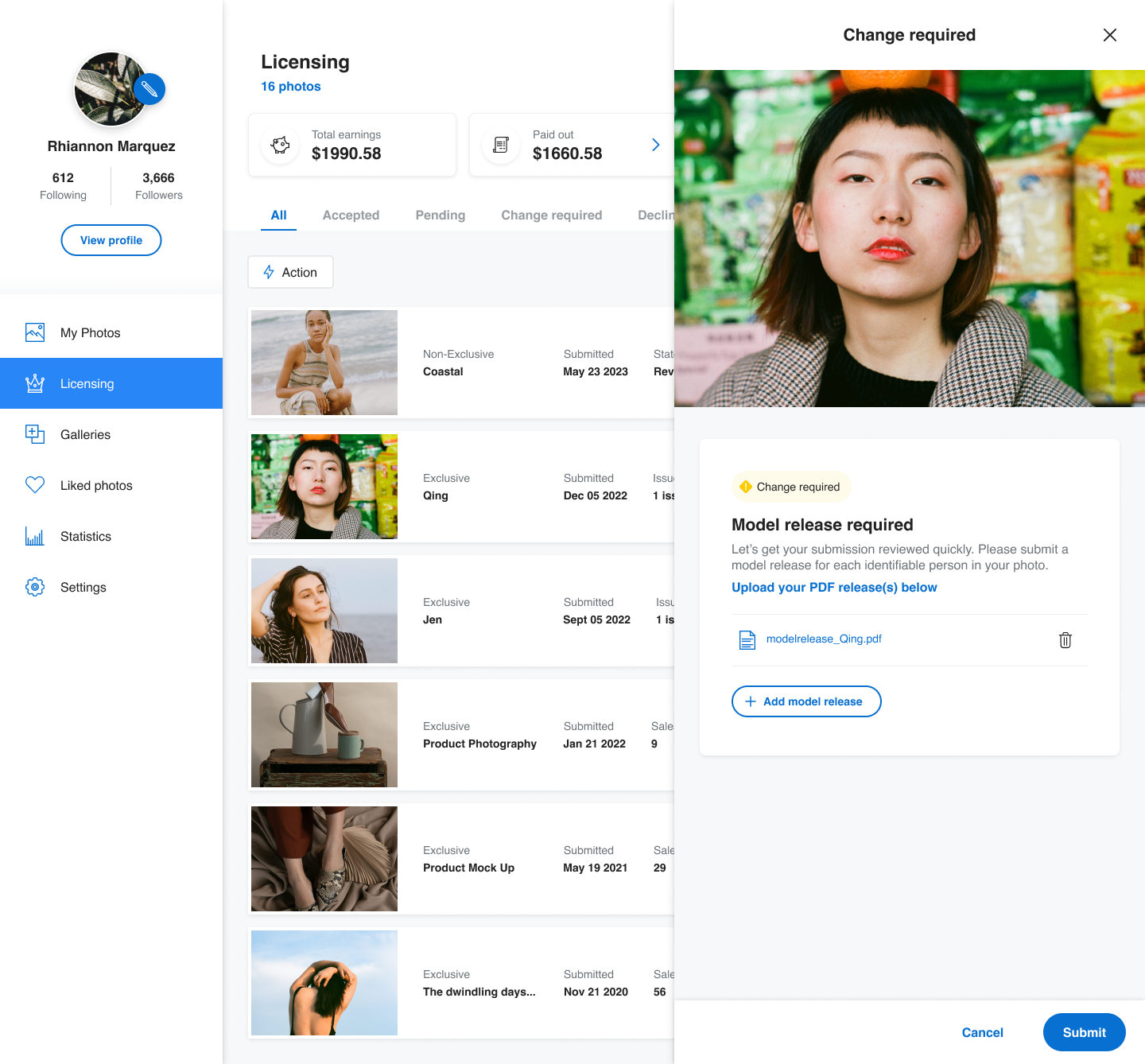 Resubmitting 'Change Required' photos
We've made the process of making changes to your photos as straightforward as possible. Changes Required reasons are now grouped by the action required, making it easier for you to take the necessary steps.
Payout history and payout setup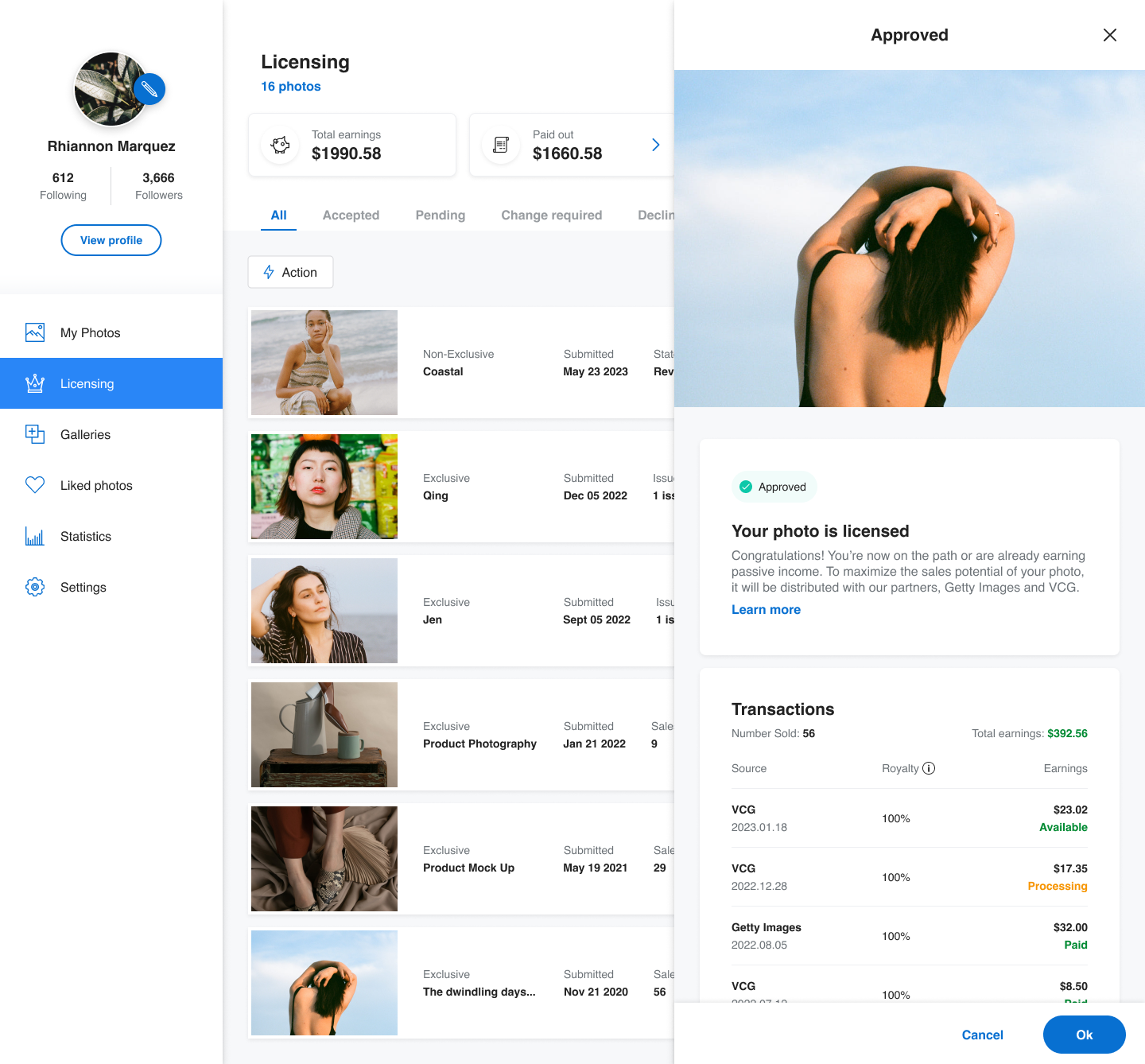 No more unnecessary screen-switching! We've moved your 'Earnings' page inside your Licensing Manager, consolidating all Licensing-related information and functionalities onto a single screen.
As we unveil exciting new features, we must bid farewell to a few existing ones. Today, we're parting ways with some features that you, our users no longer resonate with.
Goodbye…Unlisted privacy status
Unlisted, it's been a good run, but it's time to bid you adieu. Effective today, we're removing the Unlisted privacy status for photos. Any photos previously labeled as 'Unlisted' will now be automatically switched to a Private status.
Goodbye…Digital Model Release
Sometimes, digital doesn't quite hit the mark. We've made the decision to retire the Digital Model Release function, meaning you won't be able to submit model releases digitally anymore.
Any photos already Accepted that were submitted with a Digital Model Release will not be impacted
If your photo currently has a 'Changes Required' status then you will be prompted to submit a model release via a PDF
Going forward all model and property releases will need to be uploaded via a PDF
Goodbye…Groups
Oh, Groups, we had some good times but as times evolve, so must we. Effective immediately, we are discontinuing Groups and it will no longer be available. However, if you're seeking a space to engage with fellow photographers and share your ideas with the 500px team, we invite you to join us on our Reddit page.
Goodbye…Resource Hub
Although its time with us was relatively brief, we have made the decision to close down the Resource Hub. If you're seeking valuable tips, guides, and resources to enhance your photography skills, we encourage you to explore the 500px Blog.
That's all the changes for now, but rest assured, we're far from finished! Even as you read this, the team at 500px is tirelessly crafting new features, designs, and functions to elevate 500px as the ultimate destination for photographers to connect, explore, find inspiration, and showcase their incredible work. Keep your eyes peeled for more updates coming soon.
Related