Our Review of the New Beats Music Service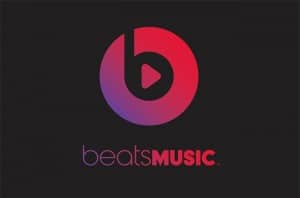 Last week, the Beats Music app/subscription service was launched. With Dr. Dre, Trent Reznor and a crew of industry veterans attached to it, the release was much anticipated.
After spending a few days with it, here's our review:
Curation
Curation is the main feature and premise of BM. You start your account right off the bat by selecting your favorite genres and artists, so that the service can begin suggesting music for you.
For most artists there are a handful playlists ready to introduce you to their music. You can also view similar artists or check out recommended music. While all of this is cool, it's the same as what's available in Spotify.
The real power of BM's curation lies in "The Sentence" feature. By selecting four parameters to complete a sentence mad-libs style, a playlist is created.
For example, "I'm at home & feel like studying with robots to vintage soul & funk" yielded a playlist of mid-tempo grooves by Marvin Gaye and Michael Jackson among other artists (many of which were unknown but great).
After playing around more with it, it's clear that The Sentence is BM's killer app for its ability to take your vague idea of what you want to hear and give you a great playlist back. It's easy, fun and not like anything Pandora or Spotify offer.
Interface
By a longshot, the mobile interface of Beats Music takes the cake over Spotify and Pandora. They've really put the work in to make finding music fun and intuitive. It takes just a few minutes to learn your way around the iPhone app and follow artists, make playlists or explore some of the curation features.
The web player, however, feels like afterthought. It looks like an expanded version of the mobile app except it doesn't have The Sentence feature, which is BM's most appealing curation tool.
Sound
Comparing the same song side by side on iPhone, BM sounds brighter and fuller than Spotify. It seems (though, we can't confirm) that BM eq's tracks to have stronger bass and brighter highs, probably to compensate for the fidelity lost with MP3 format.
But, when we streamed online through a high-end DAC and stereo, BM sounded inferior in quality to Spotify. For audiophiles who want the original mix and master of a track, this could be a dealbreaker. But, if you like to listen to music on your phone, the enhanced sound profile might be preferred or, as BM claims, "as the artist intended."
Artist Compensation
In BM's press release, they claim to pay the same royalty rate to all artists and owners–from big labels to indie–while "providing a platform for fan interaction." However, it's unclear how this interaction takes place.
Perhaps it's through playlists curated by some of the artists already–their favorite tracks, essentials, influences… For now, it's too early to tell how fans and artists will engage each other. But, with the advanced curation features, it's easy to see how fans more easily will discover new and unknown artists.
Conclusion
If you listen to a lot of music on your phone and like to explore new artists and album, Beats Music might be the way to go for you. It costs the same ($10/month) as a Spotify Premium account, streams at the same bit rate, but offers some cool music curation features, especially The Sentence.
If you prefer to stream from your computer, or already know what you like to listen to most of the time, then you'll probably be happy sticking with Spotify for now. And if you don't mind ads, you can always get a version of Spotify for free.