Best Affordable Studio Mixing Headphones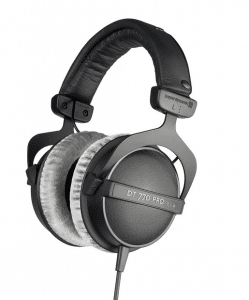 Depending on your studio space, it can often be quite pricey to set yourself up properly for mixing and mastering. Apart from needing the right monitors and monitor placement, your room acoustics can have a strong affect on your sound.
Mixing with headphones can oftentimes be your best way of having a flat, unadulterated reference in your studio without spending up to thousands of dollars on gear and sound treatments.
Here are four affordable mixing headphones that provide a good alternative to traditional monitors:
Sony MDR-7506 – $65
While on the cheaper end, the Sony MDR-7506's sound pretty good. They're durable and boast a fairly flat frequency response, which starts to taper off at the 10k mark. While they may not offer the resolution of some more expensive models, they offer a good reference for mixing at an unbeatable price.
Audio-Technica ATH-M50 – $149
The solid build and reliable flat response of the Audio-Technica ATH-M50 has made it one of the most popular pairs of mixing headphones on the market and a flagship for the impressive Audio-Technica line. While they can be a tad heavy on the bass, they're accuracy has been compared to that of $300-$500 models, making them an easy choice for producers and engineers at all levels.
Sennheiser HD 380 Pro – $136
Comparable to the ATH-M50 the Sennheiser HD Pro 380 is sturdy and offers a slightly flatter, unpolished sound along with the revered Sennheiser name. They have larger earpads, which are quite comfortable and do a bit better at blocking out ambient sounds. These headphones are popular with engineers and DJ's alike for their sound and comfort.
Beyerdynamic DT 770 PRO – $168
With the flattest response of our list and comfort that's comparable the HD 380s, the Beyerdynamic DT 770 PROs are a great pair of headphones for the money. They give the most resolution in the mid-range while not sacrificing bass detail. For the extra $20 to $40, you'd likely not regret going for these.
Don't Trust The Doctor
Never use Beats By Dre Headphones to mix! They are designed to boost the bass and treble so that the music sounds brighter and richer. For listening to music, this can be nice. For mixing, not so much. Stick with a headphone designed for professional use that will you give you as unadulterated of a sound as possible.
Using any of these other headphones, however, will give you a professionally flat sound for mixing and mastering and save you some bucks in the process. But be sure to learn the basics about mixing first–or save your time and hire a professional–so that you can make the most of your investment.