Large Diaphragm Studio Condenser Mics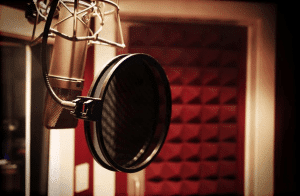 In our previous article, we looked at some recommended large diaphragm condenser (LDC) mics for studios on budget. In this article, we'll look at the high-end ones used most often in professional studios.
While LDCs are most popular as vocal mics, they are also known for their ability to capture a lot of detail and tone. While not exhaustive, the following models are a good place to start when looking for a professional LDC mic to make your recordings richer.
AKG C414 – $1100
With three pad settings, three bass roll-offs and five switchable polar patterns, the AKG C414 is popular for being able to record just about anything that's put in front of it. It has low background noise and excellent sensitivity. Some producers prefer a traditional switch to the LED selector for the mic's settings; with how they sound, however, nobody seems to be complaining.
Mojave MA-300 – $1300
Based closely upon on the MA-200 , a vacuum tube condenser that's been well-received for its warmth, flat response and affordability, the Mojave MA-300 adds a pad, pattern selector and switchable bass roll-off. And, like the MA-200, it's designed by well-respected ribbon microphone designer, David Royer. If you're heart is set on a tube mic, this one will give you the most bang for your buck.
Neumann TLM 107 – $1700
Though only a few months on the market, the Neumann TLM 107 has received a lot of criticism for it's untraditional design. But, don't be surprised if it quickly becomes one of the most popular mics in pro studios in the next few years. Like the C414, it features multiple bass roll-offs, pads and polar patterns–making it one of Neumann's most versatile mics. It's said to have an even more neutral response than the respected TLM 103. To get these features, with the venerated Neumann name, for under $2k, seems to make it a sure bet.
RØDE Classic II – $2100
Rather than giving a perfect rendering of your audio source, the Rode Classic II tube mic adds warmth and air. But, that doesn't mean it doesn't sound really good. It works on all instruments, but probably is best on vocals. Once again, if you like tube mics, this is one of the best.
Manley Reference Cardioid – $2700
The Manley Reference Cardioid is another tube condenser worth looking at. It offers a bright, detailed sound that, for some, is a good alternative to the Neumann U87. While it's probably best on vocals, it's been used on acoustic guitar or as a drum overhead. It brings a little tube flavor to your mix and EQ's well, but doesn't add as much color as the Rode.
Neumann U87 – $3600
The Neumann U87 is the benchmark by which most other LDC's are compared. It's very often found on the top of the list of mic reviews and is trusted by countless producers for its flat response, versatility and consistent quality. It's the most expensive on our list, but many would say it's well worth it.
If you can afford it, any of these top-tier mics will be integral to producing a professional sounding mix. You can still get a great sound for less, but these mics are designed with the best components and, when used right, can take your recordings to the next level of sound quality.