How To Make a $1000 Recording Studio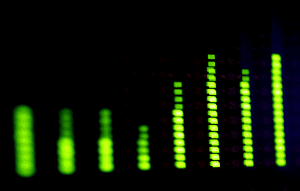 We're constantly looking out for new recording equipment and are regularly impressed by how advancements in the industry are making it possible to create great recordings for less money.
In the past, recording your own music meant owning expensive analog gear and tape, but if you're interested in recording your own music today, you can put together a pretty good recording studio with your Mac computer for less than a thousand bucks. If you don't have a Mac, you can pick up a Mac Mini with more than enough recording power for $600.
Because a good mix starts in the recording process, we recommend this gear to get you off the ground.
DAW Software:
Logic Pro X – $200
Every Mac comes with GarageBand, an easy to use recording software designed for simplicity and accessibility. For a free program, GarageBand is actually pretty good, but if you are serious about controlling your mix, you'll need a professional software.
For $199, Logic Pro X might be the best deal in recording software. It offers a perfect balance of high-quality audio processing functionality and an excellent virtual instrument programming interface. It easily competes with $600 programs like Cubase and Pro Tools, and has the advantage of almost seamless software/hardware integration from being made by Apple.
The real kicker, however, is that it ships with an entire library of virtual instrument samples and plugins. Many of which sound very good. And, if you're familiar with GarageBand, you'll be able to pick up Logic Pro's interface pretty quickly.
Microphones:
MXL 2003a Large Diaphragm Condenser Mic – $180
You're going to need a decent microphone that can handle multiple sources and deliver a clean, detailed sound. A large diaphragm condenser (LDC) mic is good direction to go.
As LDC mics go, the MXL 2003a might give the most bang for your buck as it's competes with mics three times its price.
Shure SM57 Dynamic Microphone – $100
For a backup mic, a Shure SM57 is nice to have. It's versatile, durable and entire albums have been recorded using it. It's an industry standard for a reason.
Boom Mic Stand ≈ $50
A sturdier boom mic stand is worth paying extra for. Get one that has a tripod base.
MIDI Controller:
M-Audio Oxygen 49 MIDI Controller – $150
With all of your new samples with Logic Pro you'll need a decent MIDI controller to program them. The M-Audio Oxygen 49 can easily fit on your desk, but still has 49 piano keys and several assignable knobs and sliders for mixing and automation.
Recording Interface:
Focusrite Scarlett 2i2 Recording Interface – $150
For a simple A/D converter, the Focusrite Scarlett 2i2 gives you two phantom powered microphone/line inputs and can handle up to 96k/24bit recording quality. As a bonus, it also ships with EQ, compression, gate and reverb plug-ins.
Monitors:
Beyerdynamic DT 770 PRO – $167
Instead of traditional pair of cheap monitors you can keep your cost down by mixing with headphones. The Beyerdynamic DT 770 PROs give an excellent, flat response and isolate very well. You can also wear them while you track and not worry about their sound bleeding into your recording.
With all of these items, you'll be set up to record vocals, guitar and other instruments, you'll be able to program and edit piano, string pads and drums and mix everything with nice EQ, compression and reverb plugins. All for under $1000. Have it professionally mastered and you'll be amazed at what can be done!