Best Sounding Virtual Pianos Pt. 1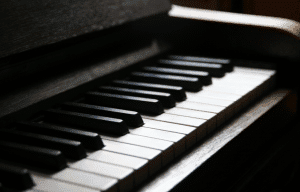 While recording a real piano is ideal, it can also be difficult and costly to get it to sound great. For this reason, many producers find it's much more practical and economical to use sampled pianos. Thanks to some really great products that have come out in recent years, they don't have to sacrifice a great sound in doing so.
Here's part one of our two-part short list of some of the best sounding piano samples you can buy today.
Galaxy Instruments Vintage D
Recorded on a 1920's Steinway D in Germany's famous Bauer Studios the Galaxy Vintage D has warmth, depth and clarity from being recorded on a Neve console with a combination of modern and vintage tube microphones. The result is an accurate and natural tone. For Jazz and solo piano pieces, it's impossible to beat Galaxy's classic and beautiful sound.
Native Instruments Alicia's Keys
Modeled after Alicia Keys' Yamaha C3 Neo, the NI Alicia's Keys is probably the most popular piano sample for pop music. She even used it instead of her own C3 from which it's modeled to record her album The Element of Freedom. On it's own It sounds present, rich and slightly dark. But it's easy to tweak it to your needs and still get a great sound.
SoundIron Emotional Piano
Rather than the normal approach of making a piano that sounds as realistic as possible, SoundIron set out to create one that's the "softest, deepest, most resonant, rich, lush, warm and truly soulful sound we could imagine in a grand piano." The result is Emotional Piano and it's powerful. If you create film scores and want a sensitive, moving piano , this is one killer virtual instrument to have in your arsenal.
Synthogy Ivory II American Concert D
Recorded on a 1951 New York Steinway D, Synthogy's Ivory II American Concert D is a masterpiece in piano virtual instruments. It has the pure and rich tone that's legendary to Steinway pianos. Though its a bit more academic and clinical sounding than the Galaxy Vintage D, for classical or solo piano you will find no better than American Concert D. If you're going to stick it somewhere in the mix of your country song, get something else. But if you're producing serious piano compositions, this an excellent option.
In our next post, we'll look at four more great virtual pianos. Check back soon!