UST Sentro Turismo launched as collaboration hub for academe, industry, government for sustainable tourism –
On May 17, 2023 (Wednesday), the UST Sentro Turismo under the administration of the College of Tourism and Hospitality Management was formally launched. The Sentro, divided into three hubs, namely business and innovation, research, and extension services. Located at the eighth floor of the Buenaventura G. Paredes, O.P., Building, the Sentro houses the different projects and studies conducted by the CTHM and provides a collaborative space for engagement with stakeholders.
Department of Tourism Management Chair Asst. Prof. Jane G. Devenadera, MSTM, CHE, CGSP noted that the hub, a new chapter for both CTHM and the University, will be a niche for sharing and exchange of ideas in line with its purpose. "Ang pagbuo sa UST Sentro Turismo sa CTHM ay isang yugto, isang antas, isang pagbabago sa aming kolehiyo na magsisilbing lugar upang bumuo ng pangarap, pananaliksik, partnership, at marami pang iba," Devenadera said.
In her message, Regional Director of Department of Tourism – NCR Ms. Sharlene Zabala-Batin noted that the hub not only unlocks the potential of Thomasian students, but it can also serve as an instrument that further shapes the tourism industry not just in NCR but in the whole country.
CTHM Research Innovation and Extension Services Coordinator and Research Center for Social Sciences and Education researcher Mr. Jame Monren T. Mercado, MACHS highlighted that the hub is envisioned to empower local communities by sharing their knowledge and expertise. Mercado also laid down the three theoretical frameworks that molded its concept: educational approach, developmental approach, and ethical approach.
"[UST Sentro Turismo] sustainably promotes significance of academe industry and government partnership collaboration through business and innovation and extension services, which is aligned to our Dominican Values." Mercado said.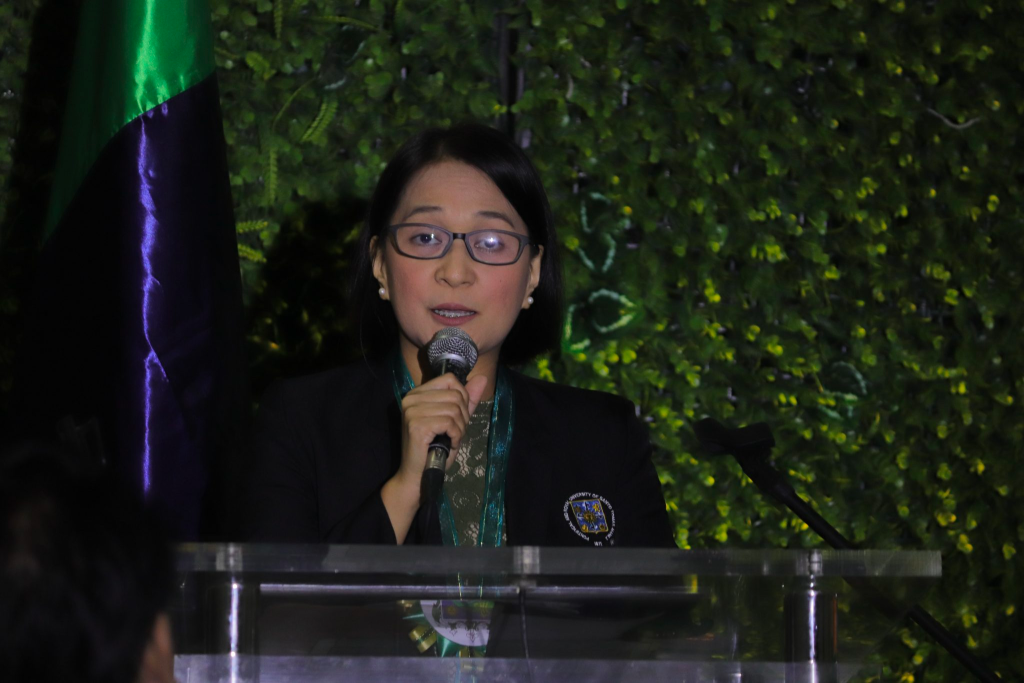 Threefold functions
With its threefold functions of research, teaching and learning, and extension services, the new Sentro Turismo "sustainably promotes the significance of academe-industry-government partnership and collaboration through business and innovation, research and extension services development aligned in the Dominican ethical and moral virtues." According to the Sentro's Coordinator Jame Monren T. Mercado, MACHS, "the UST Sentro Turismo envisions to be the lead promoter and implementor of industry and governance-related curriculum development by providing tourism and hospitality outcomes-based programs and projects that could sustainably benefit and provide economic, socio-cultural, environmental, and politico-administrative impacts to different primary and secondary stakeholders."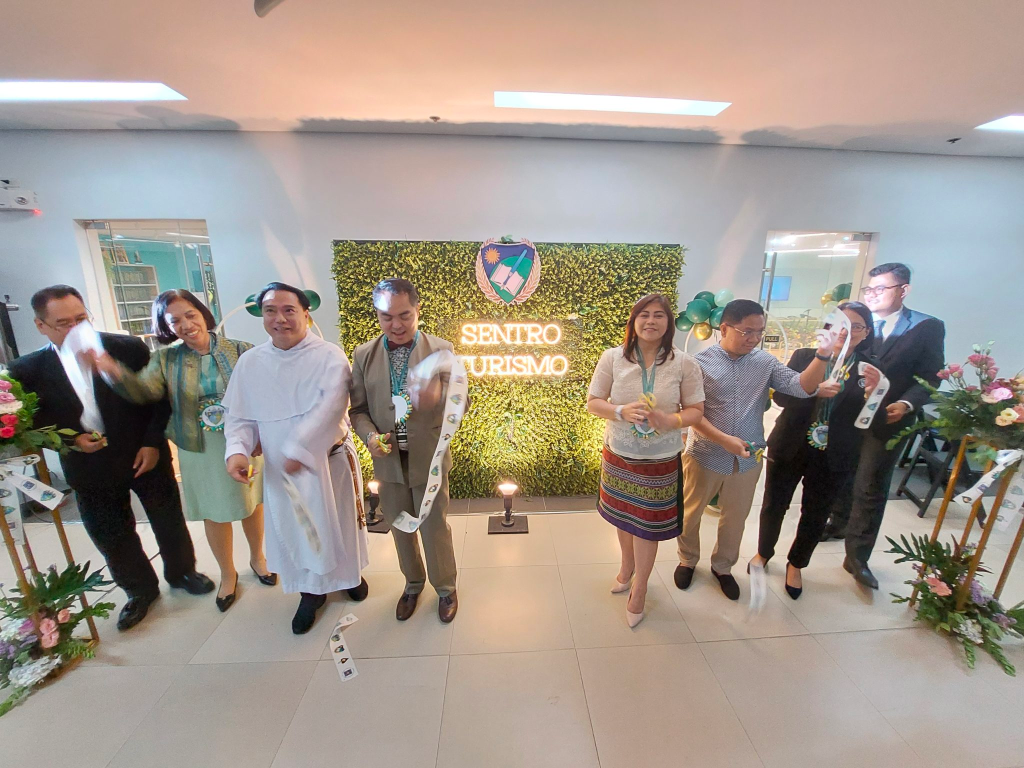 The three hubs of the Sentro
The Sentro is comprised of three hubs, namely: 1) Business and Innovation, 2) Research, and 3) Extension Services. 
For business and innovation, the Sentro will provide services pertaining to travel and tourism with its Travel Bureau, Tour Guiding courses, and Ushering activities. It will likewise house the Philippine Gastronomy Unit for the different studies and projects pertaining to Philippine cuisines. In coordination with the UST TomasInno Center, private firms can avail of consultancy services of the Sentro.
Studies on tourism and hospitality will be coordinated by the Research hub, which will liaise with the University's research units led by the Office of the Vice-Rector for Research and Innovation. Among the projects in the pipeline are the Philippine International Tourism and Hospitality Research Conference and a research journal.
For extension services, the expertise of the College will be provided to various external partners through capacity-building opportunities, speaking engagements, and memberships. A key partner of the Sentro is the UST Graduate School Center for Conservation of Cultural Property and Environment in the Tropics, led by Director Eric B. Zerrudo, PhD, who pioneered and rolled out cultural mapping projects all over the country in coordination with various local government units and institutions.
The new Sentro is managed by the CTHM's Research, Innovation, and Extension Services Committee, currently led by Coordinator Jame Monren T. Mercado, MACHS. He is joined by Assistant Coordinator Avi Ben P. Andalecio, PhD, Academic Staff Associates for External Affairs Alec P. Bagtus, MSTDM, Academic Staff Associate for Internal Affairs Lizette A. Vicente-Villaflor, MSTHM and Catherine C. Mondejar, MSTHM, Events Coordinator Karl R. Baroro, MBA, and Academic Staff Associates for Events Wyett White T. Lee, MSc and Elijah J. Coronado.
Attending the event are University and CTHM officials, led by the Vice-Rector for Research and Innovation fr. Jannel N. Abogado, O.P., DTPS, CTHM Dean Gezzez Giezi G. Granado, DCL, and CTHM Regent fr. Roland D. Mactal, O.P., SThD. External partners included the Department of Tourism – NCR's Dir. Sharlene Zabala-Batin and Mr. Ernesto Batin, Technical Education and Skills Development Authority's DDG Vidal D. Villanueva III and Mr. Rodger Patrice M. Castillo, Tourism Infrastructure and Enterprise Zone Authority's Ms. Irene R. Tumaon , Philippine Retirement Authority's Ms. Ma. Alexia Melegrito, Intramuros Administration's Mr. John Arcilla, National Museum's Ms. Reinelle S. Rogel, National Library of the Philippines's Ms. Melanie A. Ramirez, Komisyon sa Wikang Filipino Chairman Arthur P. Casanova, PhD, and local executives Mayor Francis Faustino A. Dy (Echague, Isabela), Mayor Edgon T. Sombilon (San Jose, Romblon).
Industry partners from various associations were also present, such as Philippine Tour Operators Association 1st Vice-President Mary Ann F. Ong, Association of Tourism Officers of the Philippines National Treasurer Jocelyn Abuan, Council of Hotel and Restaurant Educators of the Philippines Director Rudie Cabardo, and Association of Administrators in Hospitality, Hotel and Restaurant Management Educational Institutions President Lilibeth Aragon.