Fair Digital Deals Declaration | Indie Labels Unite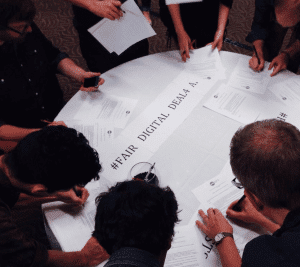 Over 700 independent record labels from around the world have banded together to back a declaration created by Worldwide Independent Network (WIN), calling for labels and music companies to commit to pay artists fairly. Some of the signatories include: XL Recordings, Cooking Vinyl, Domino, the Beggars Group, Saddle Creek, and Because Music.
The agreement, called the "Fair Digital Deals Declaration," outlines five provisions that it hopes for all independent labels to rally behind:
Ensure that artists' share of download and streaming revenues is clearly explained in recording agreements and royalty statements in reasonable summary form.
Account to artists a good-faith pro-rata share of any revenues and other compensation from digital services that stem from the monetization of recordings but are not attributed to specific recordings or performances.
Encourage better standards of information from digital services on the usage and monetisation of music.
Support artists who choose to oppose, including publicly, unauthorized uses of their music.
Support the collective position of the global independent record company sector.
Provision number two is particularly significant because some major labels cut a deal with a streaming service to get an upfront set payment or shares in the company, and these "hidden payments" rarely get passed on to the artist. Signatories have agreed to be forthcoming to the artists about all payments received, and presumptively compensate them accordingly.
Martin Mills, Group Chairman of the Beggars Group, commented, "Why wouldn't we treat artists fairly? It seems so obvious that we shouldn't have to say it, but let's say it, loud and proud."
Youtube's recent attempt to better compensate artists with major labels over independent artists highlights the timeliness and need for such a declaration.
Independent labels can sign the declaration and announce their commitment via Twitter to @winformusic and use the hashtag #fairdigitaldeal4artists.