3 Great Drum Sample Libraries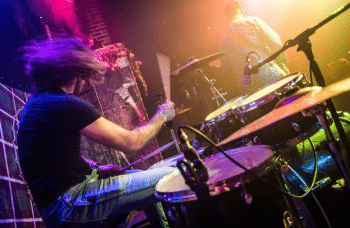 You don't need a live drummer to get a great drum sound in your mix. There are some excellent sounding drum samples available that are studio quality.
Here are three great libraries of drums and percussion that might be worth looking into if you want to add drums to your music.
Steven Slate Drums
Now in its 4th version, the Steven Slate Drums library features dozens of world class drum kits with 100 preset kits, all recorded meticulously well. No matter what genre you're producing, there an acoustic kit that sounds perfect for it. There's even a kit with jazz brushes, something that's not common to find.
The $150 "platinum" library comes with its own drum programming software engine, the SSD4. SSD4 allows users to easily tweak the sound of each sample and intuitively create a custom kit, making the possibilities for Steven Slate Drums virtually unlimited. It even allows users to import their own samples to create a hybrid kit.
For acoustic drum sounds, Steven Slate Drums are a great choice.
Thomas Penton Complete Essential Series
The Thomas Penton Complete Essential Series by Loopmasters features a large mix of ethnic drum sounds and essential samples for EDM production. Built as a one-stop-shop for house and dance music producers, it offers a library of kicks, basslines, synths, hats, crash-rides, toms, sound effects and more–all curated and used by the eponymous well-known DJ himself for over 15 years.
If you're into dance music, the Thomas Penton Complete Essential Series feels, as one reviewer put it, "like walking in to a candy shop."
Wave Alchemy Drum Machine Collection
The Drum Machine Collection by Wave Alchemy features high-quality samples from 15 of the world's most popular analog drum machines, including the Roland TR-808, 909, Korg KPR-77 and a Drumfire DF-2000.
While samples of some of the drum machines included can be found for free elsewhere, the quality of the 4,000+ samples makes the $46 price tag more than worth it. For any producers getting into hip hop, EDM, trance, and R&B, many of these samples are simply a must-have for their popularity and familiarity in those genres.