Top 10 Mastering Software DAWs
Mixing and mastering can be done with analog and digital workflows. Often the choice of which to go with comes down to user preferences, cost, and desired features of a system. The digital systems available to us today for mixing and mastering can support more tracks and more processing than many large-format consoles, making them great choices for engineers looking for flexibility in a laptop-sized workstation.
Digital Audio Workstations such as Pro Tools, Logic Pro, and Cubase are very popular when tracking and mixing are involved, but when it comes to mastering, these programs do not offer the same level of attention to features that mastering engineers may need. Luckily, the DAWs below were built with mastering in mind, offering many features that so many others do not.
Sequoia

Spectral editing and an intuitive workflow make the Sequoia DAW a top pick amongst many engineers.
Dubbed "The Engineer's Choice", Sequoia has made its name as one of the most comprehensive software suites for audio production, broadcast, post-production, and mastering. At $2,975, it comes as one of the more expensive options on the list, but those who have used it swear by its intuitive approach to audio editing as well as its immense set of features.
One of its most revered features is its object-based approach to editing. Objects are made when audio is split up in Sequoia. Objects can be made as many times as you like and are able to be moved around within the tracks. Since objects are independent of one another, fades, effects, and routing can be done on a per-object basis. This allows for great flexibility and the ability to make small changes to small sections of your track.
Additional features for mastering include MP3/AAC previewing, POW-r Dither, DDP import and export, and spectral editing. The inclusion of MP3/AAC previewing allows you to hear how your master(s) will sound once encoded into the MP3 or AAC file type. Adjustments can be made to hear how your track will hold up against different requirements such as Mastered for iTunes.
The spectral editing abilities in Sequoia come with useful features like switchable display type (linear or logarithmic) and threshold range editing. Spectral editing in mastering can be great for cleaning up unwanted noise across small or large spans of time. Magix has improved their spectral editing abilities over time using features from their restoration software Spectralayers to add to the abilities of Sequoia over time. If your project workflow requires the most advanced toolset with access to useful features like codec previewing, batch processing, and advanced spectral editing, Sequoia is a great choice.
WaveLab Pro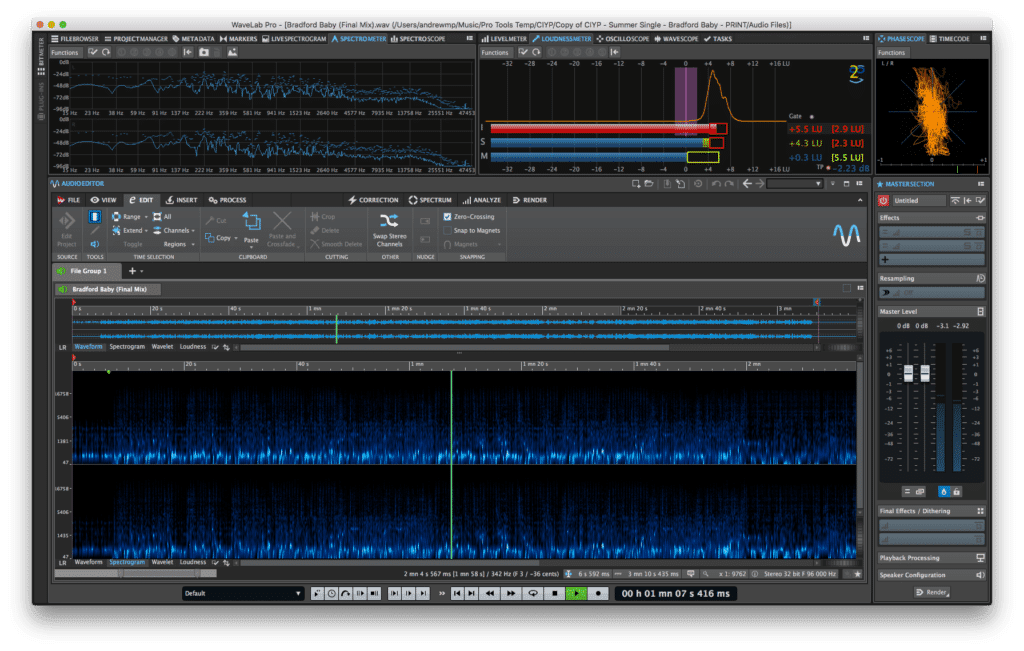 A 64-bit audio engine that supports 32-bit audio with sample rates up to 384 kHz, makes WaveLab Pro a go-to for high fidelity.
Steinberg's contribution to digital audio editing goes back to its creation in 1984 with MIDI editing apps built for Commodore 64 computers. 1989 brought about Cubase which has been adored by many engineers working in tracking, production, and mixing. Their development of VST plugin standards and ASIO drivers took their influence even further into the music industry.
When people think Steinberg, they often do not think about WaveLab first. WaveLab, like many mastering DAWs, is a very specialized program that uses an interface unlike most other software. Its feature set is built around mastering, but also includes tools that make it useful for journalists doing audio interviews, post-production houses, and restoration.
WaveLab features a 64-bit audio engine that supports 32-bit audio with sample rates up to 384 kHz. This makes WaveLab a great option for those after the most precise, high-quality products. Pair this with an extensive set of analysis tools and you will be sure that your audio is exactly how you need it to be every time.
The spectral editing function in WaveLab has been redesigned for version 9.5 and features a new viewing mode called Wavelet Display. This mode allows for a more accurate display of your audio through pitch scaling. Wavelet Display shows more frequencies in the low end of your audio and more time in the high end to bolster your confidence in making edits across these areas. Steinberg even took it upon themselves to add inpainting technology to their spectrum editor. This technology allows WaveLab to replace noise in your tracks with relevant frequencies by analyzing audio before and after the region you are editing. Inpainting is also available via the error correction section of WaveLab's toolbar, allowing for the innovate feature to be used with or without prior spectral editing experience.
WaveLab also provides mastering engineers with a plethora of tools for finalizing a master. Metadata can be edited for a variety of formats including RIFF, ID3, BWAF, CART, iXML, and AXML. The Audio Montage section of the DAW allows CDs to be built using multiple tracks. Effects can be applied to individual tracks or via the master section to make sure your entire project maintains consistency. Gaps between tracks, CD text, fades, and more can be added in the Audio Montage section. DDP export is available via WaveLab as well, giving you the option to provide them to your clients. For a great DAW centered around mastering, WaveLab will give you everything you need and more to give your tracks the polish they need.
Pyramix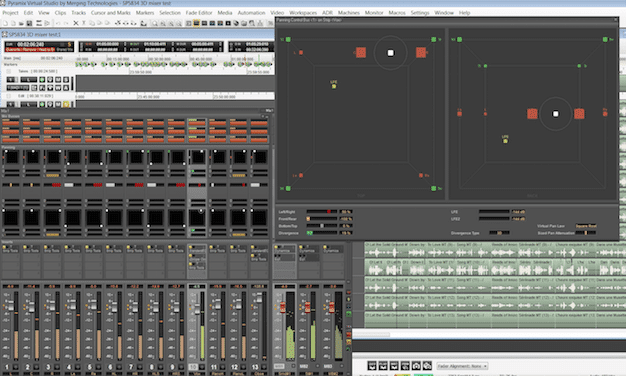 Although it sports a tough learning curve, Pyramix's editing tools are unparalleled.
Much like Sequoia or WaveLab, Pyramix is a utilitarian beast of a DAW. Merging Technologies created a powerhouse program capable of large track counts with incredible resolution all while making it stable enough to be one of the industry's best DAWs for live recordings. To start, Pyramix was designed for use by professionals. It is safe to say that all of the DAWs on this list were designed with the same thing in mind, but Pyramix does not cater to beginning engineers. If learning curves don't scare you away, then the software can be your best friend for any audio need.
Featuring advanced editing tools, professional-grade metering, and up to 384 recording tracks at a time, Pyramix is ready to handle any project you throw its way. For mastering, there are innovate plugins such as the 3D Workflows Suite. This suite allows you to natively mix for all sorts of complex speaker layouts to make sure your masters will translate to any system.
In terms of mastering, metadata, high-quality sample rate conversion, and file types become very important. Pyramix offers all of these tools. The metadata capabilities allow for ISRC code editing, CD/Super-Audio CD authoring, and many album publishing features. For the most demanding mastering situations, Pyramix also supports the Direct Stream Digital format as high as DSD256. This provides a sample rate of up to 112,896 kHz for incredible recordings and stunning results when using hybrid workflows. While Merging Technologies built a DAW for the ultimate quality, its learning curve may worry some users. If you need the tools for the most critical mastering tasks, the learning curve will be worth it. Pyramix has you covered.
SawStudio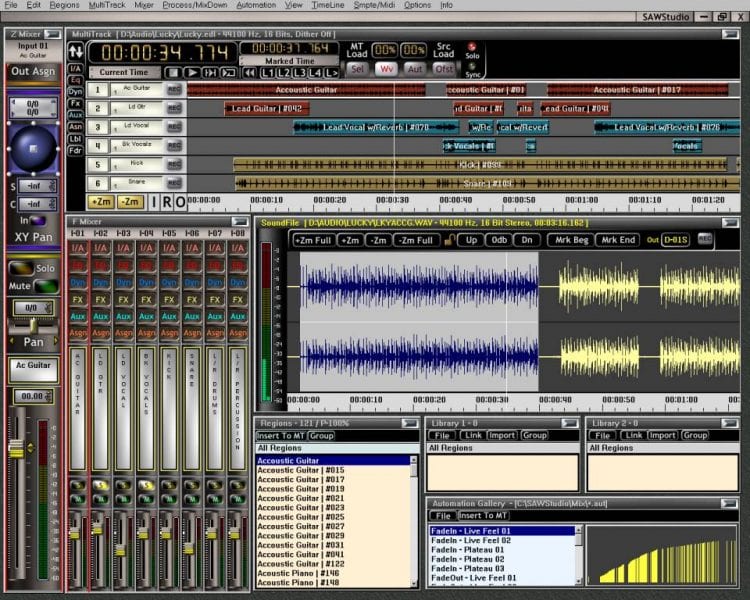 This DAW allows for visual customization and an analog-based workflow.
Another DAW that doesn't look like mastering would be its forte, RML Labs SawStudio shoots to emulate working with an analog console. Featuring an interface typical for tracking and editing, SawStudio has made its name through its advanced audio engine, customizable workflows, and stability. Workspace Views allow for customization of how the DAW displays your information making them a nice feature when working with only one or two stereo tracks.
RML Labs took great care in designing the audio engine for SawStudio. Their high-resolution sample rate conversion has proven itself to be pristine up to 96 kHz. These types of details are critical when creating high-quality files in mastering. VST support allows third-party plugins to take advantage of this high-quality engine. Plugins in SawStudio are often able to be "hotplugged" without any need to start or stop playback or worry about playback stuttering. For engineers looking for the feeling of sitting behind an analog console, check out SawStudio for your mastering needs.
Soundblade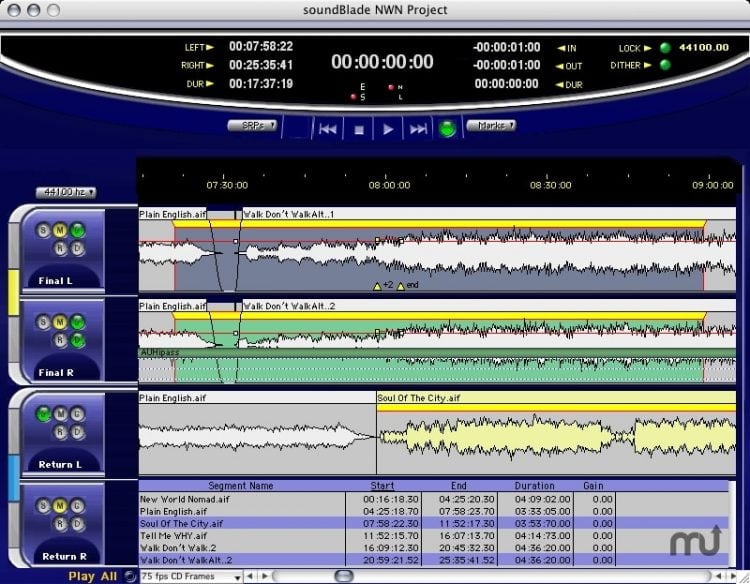 Soundblade offers high sample rate processing, as well as built-in plugins designed with mastering in mind.
Sonic Studio's approach to a mastering DAW is much more akin to software used for tracking in terms of its layout. Upon first glance, Soundblade resembles Pro Tools in the way it displays tracks and its timeline. Of course, being a mastering DAW, it has many features that programs like Pro Tools do not feature.
First off, Soundblade allows only sixteen tracks making it hard to use as a tracking DAW. The idea here is that tracks can be sent out to outboard gear and looped back into the DAW on another stereo pair of tracks for those working with hybrid mastering setups. When working in hybrid setups, Soundblade can record the externally processed audio at up to 384 kHz for incredible sound quality on the way back into the DAW.
Being a fully-fledged mastering suite requires that you have ample support for top-quality plugins. Soundblade utilizes both Audio Unit and VST plugins for options in creating the sounds you need. Sonic Studio includes their own Mastering EQ plugin featuring four bands of minimum phase shift equalizing, as well as dither plugins featuring multiple algorithms for proper noise shaping. To complete the native toolkit, restoration tools such as a spectral repair tool, declicking, and denoising plugins are available in Soundblade as well. This allows for precise edits and repairs to be made from within the DAW. Easy to use, and much more similar to traditional audio software, Soundblade gives engineers of all levels the required pieces to master their tracks with ease.
Nuendo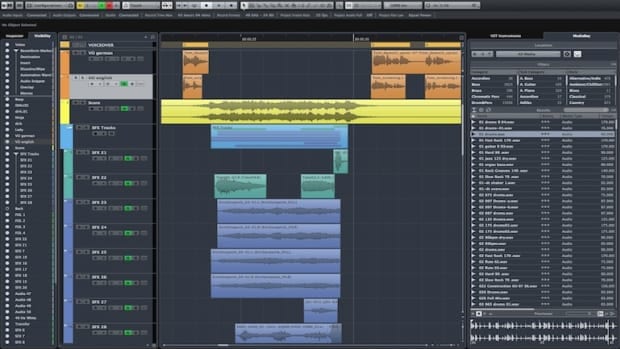 Used by professionals across multiple industries, Nuendo offers flexible features and surgical editing capabilities.
Another entry from Steinberg, Nuendo has become a useful DAW for some more specialized mastering scenarios. Nuendo is Steinberg's software offering to those in post-production. Many film, TV, videogame, and VR sound professionals have utilized its extensive list of features over the years.
While the ultimate goal of Nuendo is different than WaveLab, many of the core features are the same. Nuendo features the same 32-bit support with up to a 384 kHz sample rate and allows for deep, surgical editing of audio files. While it does not offer spectral editing, it offers a great design for working with surround mixes and 3D audio and Steinberg designed plugins for great tone-shaping options for your masters. While Nuendo may not be an obvious choice for some engineers, you may consider its strengths as a post-production DAW when working on uncommon mastering projects. Featuring the same production abilities, sound libraries, and interface as Cubase, Nuendo could become your next mastering DAW.
Studio One Pro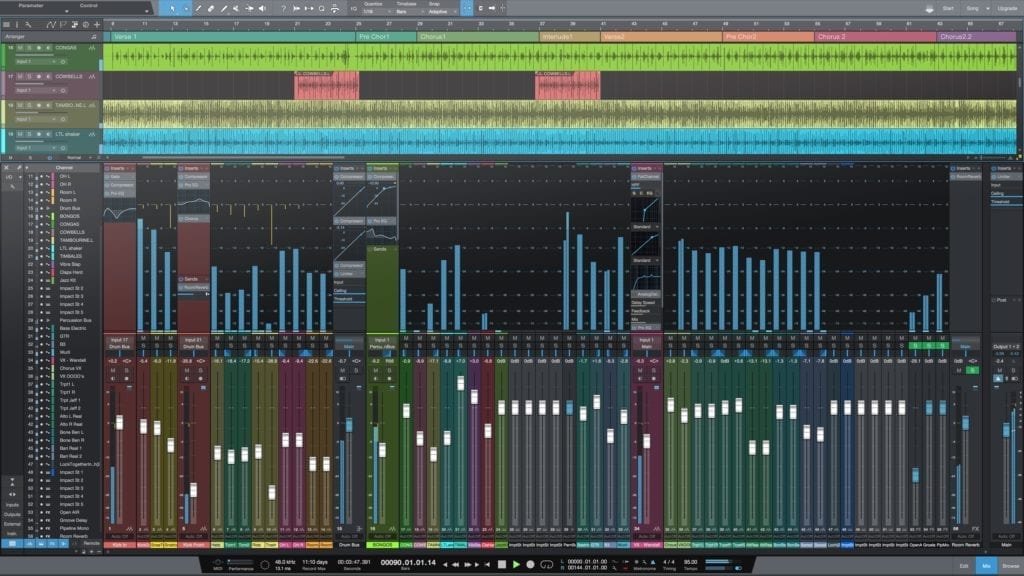 Great for tracking, mixing, and mastering, the Presonus Studio One Pro is a diverse and affordable option for many engineers.
With such a young piece of software, it is often difficult to enter the competitive world of audio editing. PreSonus did just that in 2009 when it released the first version of Studio One to the public. Praised for its quick workflows and cost-effectiveness, this DAW has become a great option for many engineers in the world of tracking, mixing, and mastering.
Rather than be a dedicated mastering DAW, PreSonus decided to combine the needs of many engineers into one program. It serves these purposes based on which screen you are operating. The first is the Song Page which follows a similar layout of other popular programs such as Pro Tools and Logic Pro. Its focus is on the recording, editing, and production of music. If you move over to the Project Page, you will find the tools required to begin mastering.
Importing files into the Project Page can be done by adding tracks from the Song Page, DDP image import, or drag and drop. The tracks can then be sequenced from within this display. Metadata and effects are easily accessible on a per-track basis making consistency across your project easy to achieve. More effects can be added via the master section and the post section. The post section allows you to place meter plugins or other analytical tools after the effects in your master section for greater confidence in how you are affecting your tracks. If you need a DAW that can go between production and mastering workflows, Studio One may have solved your problem.
Reaper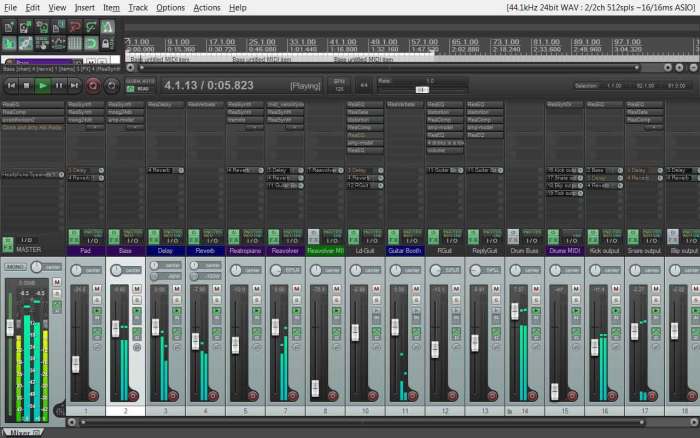 f you're looking for a DAW that comes with plugins included, Reaper is an inexpensive way to get your footing in audio engineering and mastering.
The free DAW that really isn't free, Reaper has continued to make a name for itself among hobbyist engineers and professionals alike. Featuring a familiar interface and a full list of features, Reaper is an inexpensive way to get quality tools for any of your projects. Much like Studio One, it has become a go-to for engineers who prefer to use one DAW for all of their needs.
Its layout leans towards DAWs used for production and tracking, making it easy for newcomers to feel at home. Reaper includes many native effects plugins useful for both tracking and mastering. On the mastering side, plugins such as ReaComp, ReaEQ, and ReaXcomp give you a small set of useful tools to start with. To add to these included effects Reaper supports many types of third-party plugins such as VST, VST3, AU, DX, and JS. The JS plugin interface has made Reaper a standout for engineers who live solely in the digital realm. JSFX plugins allow users to write their own custom plugins for Reaper that can be as simple or complex as needed for your project.
One of Reaper's biggest strengths for mastering is its stability and customization options. Using macros, remappable keyboard commands, and UI customization, engineers can tailor this DAW to match their workflows and style. Paired with the stability of this program, this inexpensive DAW allows for deep customization for whatever workflow you may need to run.
Sound Forge Pro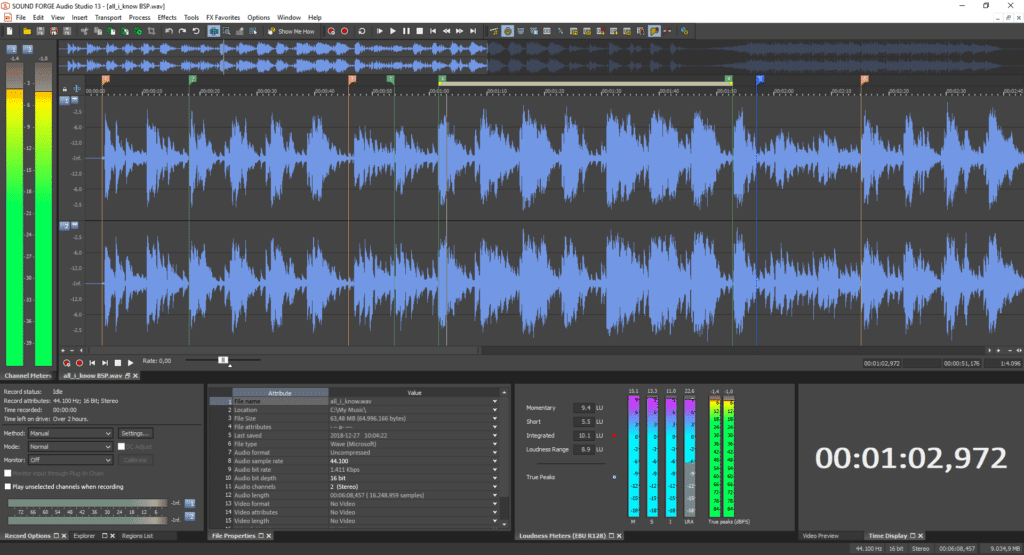 Sound Forge supports an unprecedented sampling rate of 768kHz.
Just like Steinberg, Magix provides too many good editors to only pick one. Sound Forge Pro is to Sequoia as Nuendo is WaveLab. Many of the features here are provided to meet the same goals, but Sound Forge gives engineers access to more recording and production-based workflows.
Offering sample rates of 768 kHz, Sound Forge looks to be the benchmark for high-resolution recording. Utilizing outboard gear in a hybrid system, your audio could be recaptured with incredible bit depth and sample rates which in turn would contribute to great sounding masters.
Sound Forge utilizes high-quality DSP effect plugins for enhanced precision and ease of use during complex tasks. These plugins include effects such as the coreFX 2-Point Compressor which allows engineers to set two individual thresholds for accurate and very configurable control over your dynamics. The Wave Hammer 2.0 is also included, combining a compressor with a four-band maximizer for setting different parameters on different parts of your mixes. The inclusion of iZotope Ozone 8 Elements contributes to an already great set of mastering tools with some of the best plugins in the business.
In terms of restoration, Sound Forge kept the same attitude about what is included. DeHisser, DeClicker, DeCrackler, and DeClipper are included for both basic and advanced cleaning tasks. Magix also opted to include iZotope RX 7 Elements to meet more restoration needs. Including spectral editing with RX 7 rounds out a great set of plugins for great control over any of your mastering needs.
Acon Digital Acoustica Premium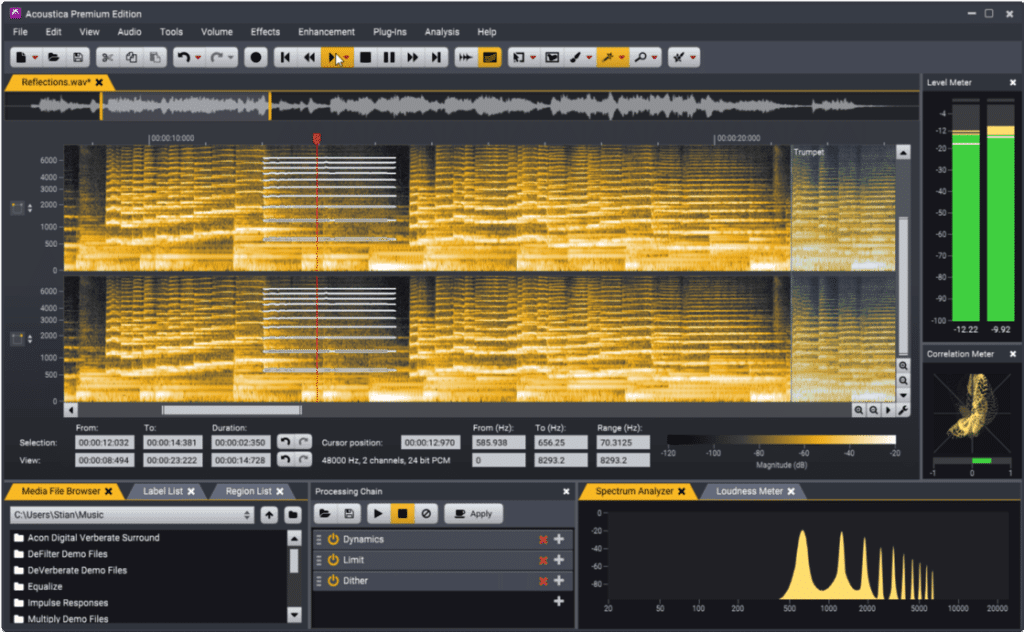 Acoustica Premium offers diverse spectral and imaging visuals, as well as comprehensive metering.
Like many mastering DAWs, Acon Digital set out to create a unique user interface with features aimed at specific types of audio editing. Offering two versions based on your needs, Acoustica aims to be a great standalone program for mastering, restoration, and audio editing.
Featuring support for 32-bit audio at 384 kHz, Acoustica is capable of incredible sound quality with stereo, 5.1, and 7.1 formats. The software has a great set of tools for advanced editing and restoration that can help fix clicks, crackle, noise, and clipping. In addition to these tools, the premium version of Acoustica provides engineers with a spectral editor, complete with multiple types of selection modes for the most critical situations.
Acoustica also includes a multitrack editing mode which gives engineers more control over individual track needs. This mode allows each track to include crossfades, automation, and effects. To allow for more multitrack use, Acon Digital's new Transfer plugin comes with Acoustica. Transfer allows Acoustica to import audio from Pro Tools sessions so you can utilize the best of both DAWs. Not only does this expand the abilities of Pro Tools, giving it access to a robust set of analysis and restoration tools, but it also makes a case on Acoustica's side. If an industry-standard DAW can utilize its functionality, why wouldn't engineers add Acoustic to their toolkit? With a mastering focused interface, easy Pro Tools integration, and quality plugins to spare, Acoustica makes a strong case as to why it should be your mastering DAW.
---
Conclusion: Mastering has been viewed as a "dark art" in some circles, requiring incredible ears, expensive equipment, and an advanced skill set. While the "dark art" part is a bit much for many mastering engineers, it is still a process to be taken seriously. With the advent of software, a lot of these requirements are much less steep. As with any software decision, a lot of the choices on which DAW to use in your mastering workflow will be determined by user preferences. All of these DAWs will get you closer to mastering radio-ready tracks.
If you're interested in what professional mastering can do for your mix, follow the link here for a free mastered sample of your song: https://www.sageaudio.com/register.php
---